Specifications for the Respironics EverGo Portable Concentrator:
Product Features:

Includes 2 rechargeable batteries that can give you up to 12 hours of operation life that are easy to charge, remove and change. The batteries can be charged with any outlet or vehicle charger. It can be used while the unit is charging.
User friendly LCD touch screen that controls all functions and displays battery life and your prescribed settings.
Features an innovative design that weighs less than 10 pounds and looks like a camcorder case.
Low maintenance with one filter that is easy to remove and clean.
Approved for airline travel by the Federal Aviation Administration (FAA)


Product Dimensions:

6 inches wide x 12 inches deep x 8.5 inches high

Product Weight:

8.5 pounds with a single battery, 10 pounds with 2 batteries

Warranty:

Three-year Manufacturer's Warranty
90-Day Manufacturer's Warranty on Accessories

Battery Charging:

Approximately 2 to 3 hours for each battery from 0% charge to 100%. Various factors determine charge times; usage and the power source can extend the time it takes to completely recharge batteries.

Battery Duration:

On a setting of 2 at 20 Breaths Per Minute
1 Battery: Up to 4 hours
2 Batteries: Up to 8 hours

FAA Approved:

Yes

Flow Settings:

Pulse Dose: 1 to 6 in 0.5 increments

Manufacturer:

Respironics

Noise Level:

Around 43 decibels (As loud as a refrigerator humming)

Operating Ranges::

Temperature: 41 - 104 Fahrenheit (5 - 40 Celsius)
Humidity: 15% - 95%
Altitude: 0 - 8,000 feet (0 - 2438 meters)




Outlet Pressure:

3 PSI (Pounds Per Square Inch)

Oxygen Concentration:

All Settings: 90% (+/-3%)

Storage Ranges:

Temperature: 41 - 104 Fahrenheit (5 - 40 Celsius), unit only
Humidity: 0% - 95%, non-condensing
Store in a Dry Environment




Transportation:

Handle with care and always keep dry.

User Interface:

LCD TouchScreen
Product Information Videos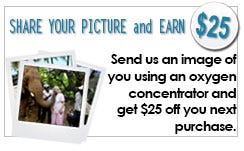 Product Literature
You will need Adobe Acrobat Reader to view PDF documents. Download a free copy from the Adobe Web site.
---
Respironics EverGo Portable Concentrator Customer Reviews
Review by
Mary Ellen DiPasquale
on February 11, 2015
We travel quite a bit and I am able to go anywhere I want without having to worry if I will run out of oxygen!

Review by
Cathy Dumolien
on January 5, 2015
I would really recommend this product. I would like to replace the wheels however, since they have seen a lot of wear and tear (zoos, shopping, parks. etc.) Is there a way to do this?
Review by
LC
on February 7, 2014
I had this unit for 3 years, then my insurance wouldn't accept it any longer. I went to another company and they sent me an Invacare. It is nothing compared to the Evergo and I really miss it.
Review by
Richard Medlin
on February 6, 2014
The one I have I purchased. I really enjoy using it. The time finally came for it to be serviced and I cannot find where to take it.
Review by
Joe V.
on July 11, 2013
I like that I can just clean the filter and it seems to last longer than the filter in my old concentrator. I'd rather clean it than have to buy a new one sooner. Nice and practical and good job thinking about their customers.
Review by
Jaco T.
on July 2, 2013
Like my patient who was happy with the EverFlow Q, he now has the EverGo and is very satisfied. Respironics seems to be one of the best brands and this portable model is no different.
Review by
Debbie J.
on July 1, 2013
I can't see anything wrong and I've had it for 4 months. Very happy with its performance. Feeling much more free now!
Review by
Sonya L.
on June 27, 2013
My EverGo gets banged around a lot because of my very mobile life. It seems to be doing fine especially with the nicely protective carry bag. It took a hit once that I thought would definitely damage it, and it was fine.
Review by
Bill S.
on June 27, 2013
This this is pretty much hidden and that's what I like about it. I also wear the OxyView Glasses with it and people don't know I use oxygen unless I tell them. Great and undercover.
Review by
Nina J.
on June 27, 2013
People talk about the battery not performing so well, but it's not an issue if you only need a small pulse dose. The battery doesn't drain too bad and it does what I need it to do. Nice and small.
Product Questions & Answers
How to change filter on the Respironics Ever Go?
The EverGo has a washable/external filter and an internal filter that need to be maintained. The washable/external filter is located on the side of the machine. It is a small rectangular cutout covered by mesh netting and has a zipper. The gross particle filter should be rinsed off and completely dry before placing back into the machine. Depending on the number of hours the machine is used each day, the internal filter should be replaced every 1-2 years.

How do I perform a hard reset on the EverGo?
To perform a hard reset, you will need to first remove both batteries from the machine and disconnect all power to the unit. Let the machine sit powered down for 2 minutes. Plug the machine back into AC power (the power supply for use in the home) WITHOUT BATTERIES and turn the machine on. Once the unit has been running for 5-10 minutes, place the batteries into the machine WHILE RUNNING. This should eliminate the issue the machine is having.If the issue still occurs, call us and we will begin the process of creating a case.

How do I insert and remove the battery on the EverGo?
When looking at the unit from the top, you will see a Velcro piece that is fastened to the machine. Fold the Velcro piece up and you will notice a zipper. The top half of the bag on the machine will unzip, sort of like a lunch box. This is where the batteries are located. When placing the battery inside the machine, make sure to set it in gently. If you drop or slam the battery into the machine, the tabs, pc boards on the battery or the inside of the machine can get damaged or break. When removing the battery, place your finger on the plastic release and either push or pull away or toward you, then lift up on the black tab on the battery itself. Lift up on the battery and remove toward you, making sure you have a firm grip on the battery so it does not drop back into the machine or slip out of your hand.

How long does the battery last at all settings on the EverGo?
The battery duration FULLY CHARGED for Pulse Only up to the setting of 6. Keep in mind that battery durations are estimated because each patient has different breath rates and breathing patterns, which will make the batteries last for shorter or longer amounts of time.

Pulse ONLY
With 1 battery in the machine
Setting 1: 6 Hours
Setting 2: 4 Hours
Setting 3: 3 Hours
Setting 4: 2 Hours
Setting 5: 2 Hours
Setting 6: 2 Hours

With 2 batteries in the machine
Setting 1: 12 Hours
Setting 2: 8 Hours
Setting 3: 6 Hours
Setting 4: 4 Hours
Setting 5: 4 Hours
Setting 6: 4 Hours

How loud is the Respironics EverGo?
This unit is 43 decibels on a setting of 2. This is equivalent to the noise level in quite library.
SHIPPING OPTIONS
*This product is available for FREE GROUND SHIPPING. Please mention code FREESHIP2015 to the sales representative or enter it under "Discount Codes" in your shopping cart.

Please allow for 3-6 business days for UPS Ground Delivery in the US: most orders are processed within 1 business day. This item can be expedited for an additional fee. Additional charges apply to products shipped to AK, HI and territories outside the continental US. Free shipping is only eligible on new portable concentrators and does not apply to AK or HI. Cannot be combined with other offers. Restrictions may apply.

Other Delivery Options:
UPS 2nd Day: Delivers the second business day.
UPS Next Day: Delivers the next business day.