Used and Refurbished Oxygen Concentrators
Some of our suppliers will not allow us to publish our pricing on the internet so please call us at
1-877-774-9271

for the

LOWEST PRICES

We maintain a large inventory of gently used oxygen concentrators for sale, including the Inogen One, Invacare XPO2 and many other home and portable oxygen concentrators. Used oxygen concentrators have a reputation for being unreliable, but with our rigorous testing and refurbishing, we ensure the highest quality.

Our inventory changes often; SOME UNITS MAY NOT BE AVAILABLE, so please call us for a current listing of used oxygen concentrators for sale.
The Factory ReCertified AirSep Focus is fully-tested and comes with a 2-year warranty. All Factory ReCertified AirSep models also include 2 batteries, universal power supply, DC cord, AC cord, shoulder strap & carrying bag, cannula and manual.

Click Here to Learn More

The Factory ReCertified SeQual Eclipse 5 is fully-tested and comes with a 2-year warranty. All Factory ReCertified SeQual Eclipse 5 models also include 1 battery, universal power supply, carrying case, mobile cart, DC cord, AC cord, shoulder strap & carrying bag, cannula and manual.

Click Here to Learn More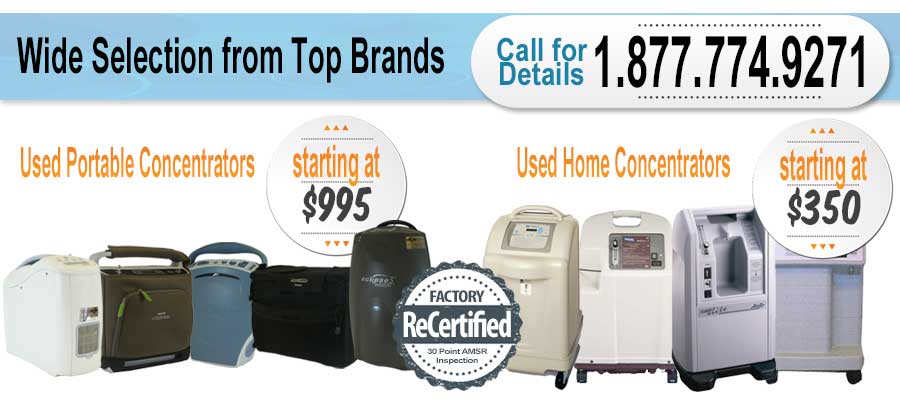 ---
Additional Information on Factory Recertified and Used Oxygen Concentrators
There are always pros and cons when buying a used or refurbished oxygen concentrator as opposed to new. However our refurbished units are so well maintained and tested so there is no need to worry about the cons and you can just enjoy the pros. The best pro in our opinion? The incredibly low price!
Portable oxygen concentrators usually run pretty high in price when new, but you are getting a great deal with the same high quality with our used models. You can rely on our used models just as you would with any new one while enjoying a much lower price. We carry many different brands we we are confident that we have the exact model that will fit your needs in our refurbished stock.
A used stationary oxygen concentrator is a wonderful idea if you need oxygen at night or for long periods throughout the day. The previously used or refurbished models will naturally have more "miles" on them. From this they prove to be long lasting and well -functioning units with very easy maintenance. They will be able to last you as long as you need it to while using them at home because they are built to give you 24/7 continuous oxygen. For example, a refurbished AirSep Visionaire would be a reliable way to get your oxygen therapy at home.
Our refurbished and used inventory does vary from time to time as we only like to buyback and offer the highest quality and functioning models. We will not always have the same amount or models in stock, however we will absolutely find a model that will suit your needs. If you are looking to save money, check with us to see if your model is in the refurbished and used stock first for a much lower price. You will receive the same reliability.
We may also be able to offer you some gently used and quality tested accessories for your new or used portable oxygen concentrator. This includes AC/wall chargers, DC/Car Chargers and cords, batteries, carry bags and straps. If you give our customer service line a call, you can see what is available and at a price we guarantee you will like.
Need an extra Inogen G2 24 Cell Battery? A used one may be the best way to go! Extra batteries are always a good idea, especially if you plan on doing some long distance traveling. Saving money wherever you can is important and you can count on our used stock to be a good choice to add to your savings.
As we mentioned a bit before, our inventory is changing constantly. There will be some models in our used and refurbished stock that you won't see on the website. You never know what you might be able to save money on! Our portables can start as low as $995 and stationary units starting at $350!