Portable Oxygen Concentrators
Portable oxygen concentrators were designed for oxygen users who desire a small, lightweight and affordable oxygen solution in portable and mobile unit. Portable units are much smaller and lighter than a
home oxygen concentrator
. Portable concentrators are designed for each individual's oxygen needs and vary in weight, size, oxygen flow settings and battery life.
We carry 18 different models of new and used portable oxygen concentrators, all in different sizes and specifications.
Portable concentrators permit oxygen users to travel freely and can fit and used in any vehicle or RV. All of our mobile units are FAA-approved for flight by most major airlines. Our customers enjoy activities such as golfing, hiking, boating, and camping while using a portable unit.
If you have any questions, please contact us by calling or chatting online right now.
Some of our suppliers will not allow us to publish our pricing on the internet so please call us at 1-877-774-9271 for the LOWEST PRICES.
Need Help Choosing an Oxygen Concentrator?
Try our oxygen concentrator selector
Learn About Portable Oxygen Concentrators
Most Watched Videos
Selecting a Portable Oxygen Concentrator
There are important factors to remember when purchasing a portable oxygen concentrator. Watch this video to learn about how to select a portable unit.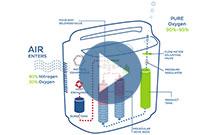 How an Oxygen Concentrator Works
An oxygen concentrator takes in the air & filters the oxygen then delivers it through a cannula. Watch this video to learn how a concentrator works.
Related Blog Posts
Portable Concentrator Electricity Usage and Costs
Portable oxygen concentrators are generally small so they don't use that much electricity. You will have to plug it into a wall socket to run and/or charge it when you're at home or in a building. You can charge the battery as well as run it at the same time this way. Many people do this overnigh...