What portable oxygen concentrators are the quietest?
Portable Oxygen concentrators, since they're working hard to draw in air from around you and convert it to pure, breathable oxygen, are never completely silent. They need to make a little noise — a hiss or hum here and there — to function, but that doesn't mean that you should be left with a machine that makes as much noise as a jet plane taking off. If you need to use your oxygen concentrator while sleeping, that persistent noise may also keep you or your bed partner awake at night.
Depending on whether the portable oxygen concentrator, you can get the oxygen you need without all the noise by
choosing from the quietest portable oxygen concentrators on the market
.
The Quietest Portable Oxygen Concentrators
When you're out, and about, a loud humming can make even the most inconspicuous-looking portable concentrator conspicuous, even if it is safely inside your carrying bag. Portable oxygen concentrators, as they are less powerful than stationary units and have a smaller footprint, are generally quieter than units for use at home only. The quieter the unit, the more comfortable oxygen users will be when visiting museums, movie theaters, libraries, and other places where there is little to no general noise.
All of the portable oxygen concentrators available at the Oxygen Concentrator Store emit noise levels below 50 decibels, so they'll always be quieter than at-home units. The
quietest portable oxygen concentrator is the CAIRE FreeStyle Comfort
, which registers at a barely-audible 38 decibels. The
Inogen One series — G5, G4, and G3
— all make the list of the top five quietest portable oxygen concentrators at 39, 40 and 39 decibels, respectively.
You don't have to let a noisy oxygen concentrator stop you from venturing outside, inviting people to your home, or sleeping peacefully. With modern technology and newer models of oxygen concentrators, you can find a unit that is as quiet as a mouse but powerful enough to supply you with as much oxygen as you need.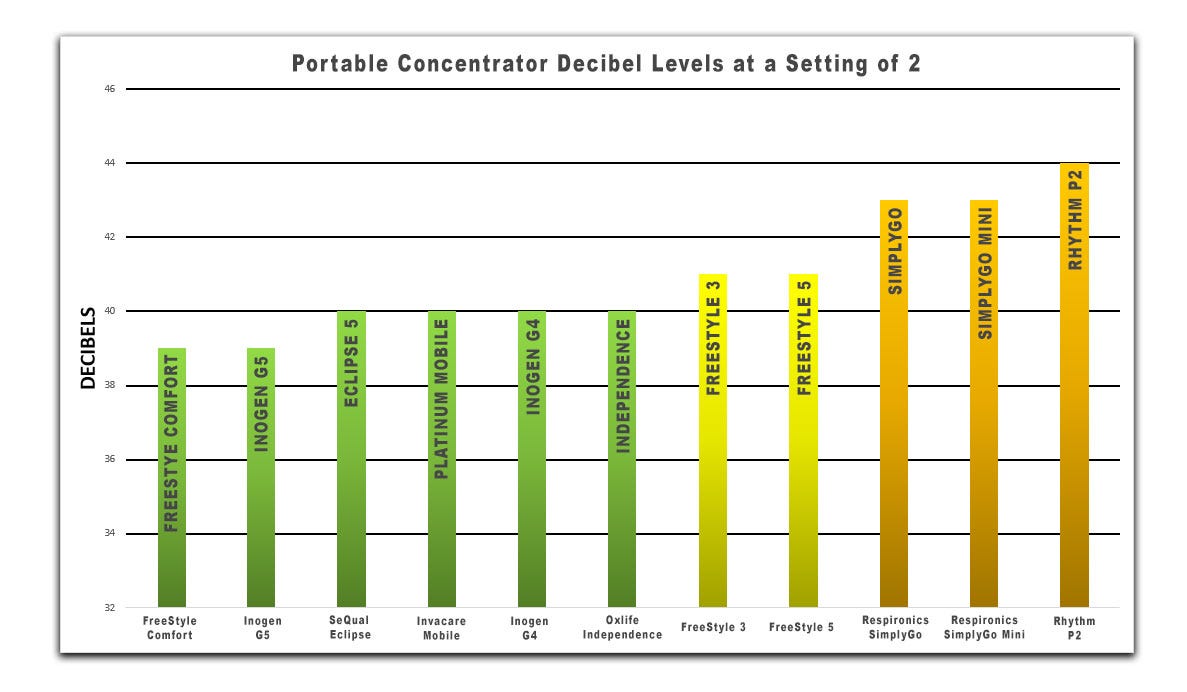 * Decibel levels are approximate, and vary depending on oxygen setting.
Updated: May 12, 2023