CPAP Masks that include Nasal Masks, Fulled Faced Masks and Nasal Pillow Masks
CPAP masks that include full face, nasal pillow and nasal masks from the leading CPAP providers like ResMed, Respironics, DeVilbiss. Find the right CPAp mask.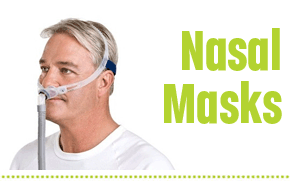 Nasal CPAP masks rest easily over the nose, and provide a constant stream of pressurized air that keeps the user's airway from collapsing, thus minimizing the possibility of apneas. Many users prefer the contour fit and ease of use. The smaller interface is often preferred over a Full Face Mask. Patients that find the Nasal pillows uncomfortable at higher pressures will find Nasal Masks to deliver a more comfortable and beneficial Sleep Therapy Treatment.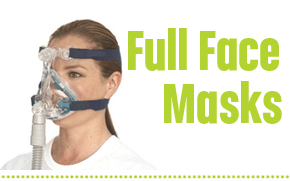 If you mouth breathe or have mouth leaks, then a Full Face Mask will provide a number of benefits over a nasal mask. A full face mask will prevent air loss that can compromise treatment, and offer a resolution to dry throat and nose problems. If you mouth breathe or have leaks, you will not be receiving your full treatment pressure with a Nasal Mask, consequently you may not be getting the full benefits of your Sleep Therapy Treatment.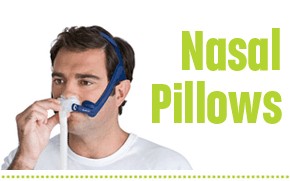 INasal pillows are very small in size and have two flexible pieces, similar two a mushroom cap. The pillows fit gently into the nostrils and attach to an adaptor that fastens to the CPAP tubing. Rather than wearing a triangular mask that rests on the upper lip, nose, or cheeks. Users that suffer from allergies to interface materials, claustrophobia, patients with mustaches and beards normally prefer nasal pillows to a mask because the pillows do not rest directly on the above mentioned areas.
Shop Top Selling CPAP Masks
The EasyLife Nasal CPAP Mask was created for your comfort and ease. Respironics EasyLife is lightweight, flexible, and self-adjusting.

The Respironics OptiLife was designed with your comfort and ease of use in mind. The OptiLife is latex-free, easily adjustable, easy to assemble and easy to clean.
CPAP MASK FAQs
Which type of mask should I choose?
There are traditional
nasal masks
(by far, the most popular with CPAP users),
alternative nasal masks, full face masks
(for those patients who have problems with mouth breathing or leaking from the mouth),
nasal interface systems
(such as nasal pillows systems), and
oral masks
. For the best possible choice, stick with what has worked in the past. If you do well with nasal CPAP masks, stick with them. Each manufacturer has taken great lengths in designing masks that will suit your very unique facial structure and therapy needs. If this is your first mask purchase or you are unhappy with your current mask type, please give us a call and we will be happy to give you suggestions based on your individual therapy needs.
Which CPAP mask will work with my machine?
All CPAP masks and most CPAP tubing are made to a standard size. Because of this, you can choose any mask to use with your CPAP or BiLevel machine. You should choose your CPAP mask based on previous good experiences with a mask, a doctor's recommendation based on your sleep study, or suggestions from CPAP providers who have experience in this field, such as us. Our experienced staff is available to answer your questions and offer suggestions!
VIEW MORE CPAP MASK FAQs
HOW TO SELECT THE RIGHT CPAP MASK
Selecting the right CPAP Mask is an important factor in achieving effective CPAP therapy. Continuous positive airway pressure (CPAP) masks and headgear come in many styles and sizes to comfortably treat your sleep apnea. Everyone has different needs and face shapes, so you may need to research a variety of CPAP masks before finding the right one for you. If you have been a particular size from in one manufacturer CPAP mask that doesn't mean you'll be the same size in others.
Work closely with your doctor and our Respiratory Staff to make sure you have a mask that suits your needs and fits you. Please use our
CPAP Mask Guide
to help you select the right CPAP mask.
VIEW OUR CPAP MASK GUIDE