2019 State of the Air
The air we breathe gives us life-sustaining oxygen and cleanses our bodies of waste like carbon dioxide. But what happens when the air we breathe isn't clean? For the last 20 years, the American Lung Association has tracked data from air quality monitors to compile the
"State of the Air"
report.
Using these findings, you can help protect your overall health and join the fight to make our air cleaner.
Ozone and Particle Pollution
Ozone and particle pollution are two dangerous pollutants that, when breathed in at high levels, can shorten your lifespan.
In this case,
"ozone"
isn't referring to the protective atmospheric layer that shields us from much of the sun's ultraviolet radiation. At ground level, ozone develops from gases that comes out of tailpipes, smokestacks, and other pollution sources. Breathing this gas can irritate the lungs and result in something like a bad sunburn within the lungs. Often called "smog," ozone pollution can cause immediate effects, like shortness of breath, asthma attacks, and susceptibility to pulmonary inflammation, to long-term effects like premature death. Even low levels of ozone may be deadly, since it can cause cardiovascular disease, strokes, and respiratory issues.
Particle pollution is a mix of tiny solid and liquid particles that are so small that you can't see the individual particles - only the haze they create when millions of them come together. Because some particles are so small, they slip past the body's natural defenses and can get trapped in the lungs or the bloodstream. Even short-term and low level exposure to particle pollution can be deadly. A 2017 study has shown that older adults face a higher risk of premature death even when levels of short-term particle pollution remained below the current national standards. Short-term particle pollution has also been linked to increased mortality in infants and young children, increased number of heart attacks, inflammation of lung tissue in healthy adults, and a variety of
other health issues
.
How Many People Are Affected By Ozone and Particle Pollution?
Pollutant levels worsened in many cities in 2015-2017 compared to 2014-16. About one in four in the United States, or 43.3% of Americans, now live in counties that have monitored ozone and/or particle pollution, which brings the number of people breathing unhealthy air up to nearly 141.1 million (compared to 125 million in 2017).
Although there is a significant increase in areas with unhealthy levels of these pollutants, the Clean Air Act is helping to decrease the number of people affected by ozone and particle pollution. In 2012-2014, about 166 million people were affected by unclean air. While the numbers are improving, there is still a long way to go, and climate change will only make the fight for clean air more difficult. The 2019 report, which measured the three warmest years in modern history, states that the increasing effects of climate change not only cause extreme weather events, but also play a role in increasing unhealthy particle pollution levels.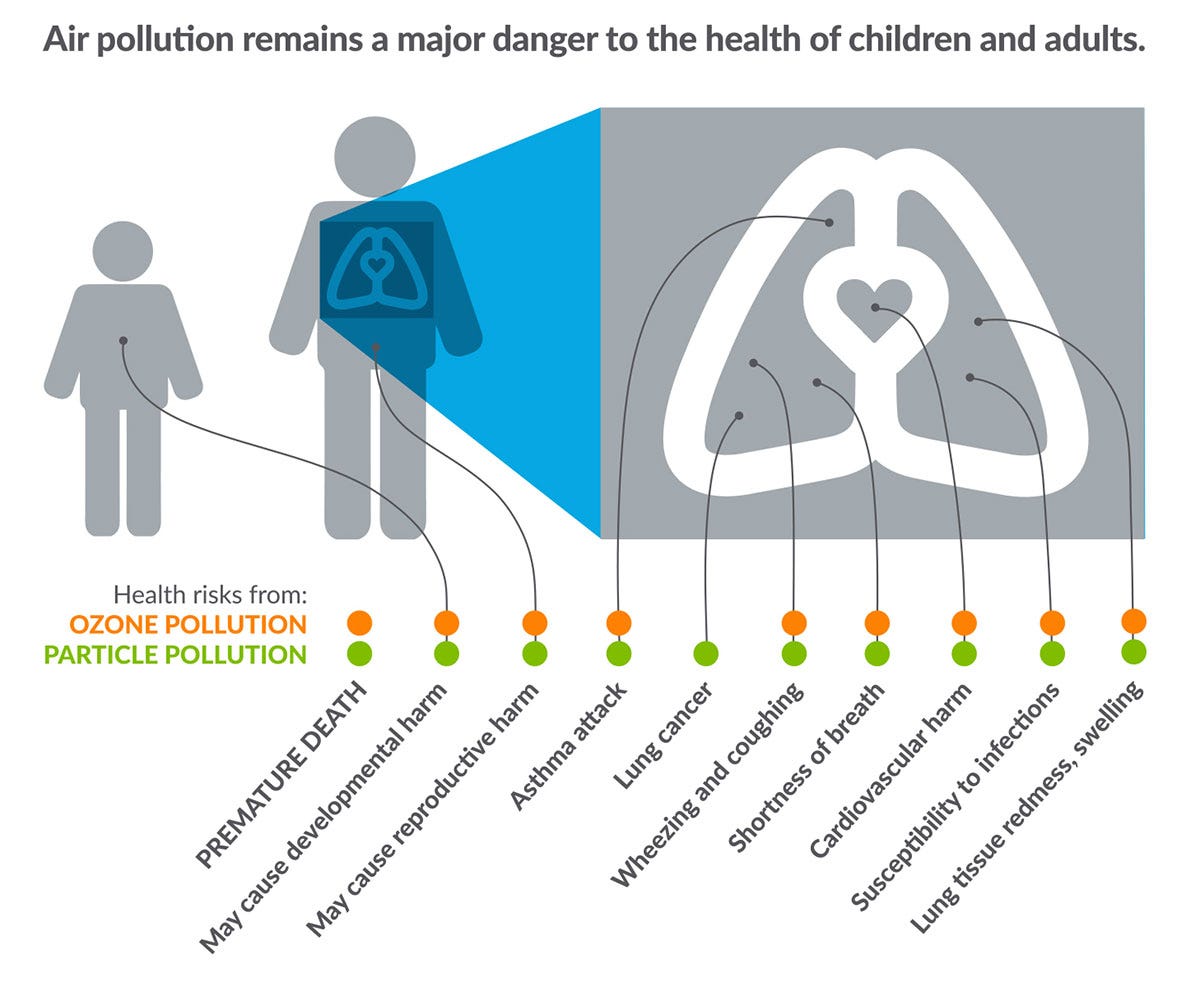 Is My City's Air Safe?
The American Lung Association assembles several lists to rank the cleanest most polluted cities based on ozone pollution, year-round particle pollution, and short-term particle pollution.
List of cleanest cities include:
By Ozone Pollution:
Anchorage, AK
Bangor, ME
Bellingham, WA
By Year Round Particle Pollution:
Cheyenne, WY
Kahului-Wailuku-Lahaina, HI
Urban Honolulu, HI
By Short-Term Particle Pollution:
Albany-Schenectady, NY
Albuquerque-Santa Fe-Las Vegas, NM
Alexandria, LA
List of most-polluted cities include:
By Ozone Pollution:
Los Angeles - Long Beach, CA
Visalia, CA
Bakersfield, CA
By Year Round Particle Particle Pollution:
Fresno-Madera-Hanford, CA
Bakersfield, CA
Fairbanks, AK
By Short-Term Particle Pollution:
Bakersfield, CA
Fresno-Madera-Hanford, CA
Fairbanks, AK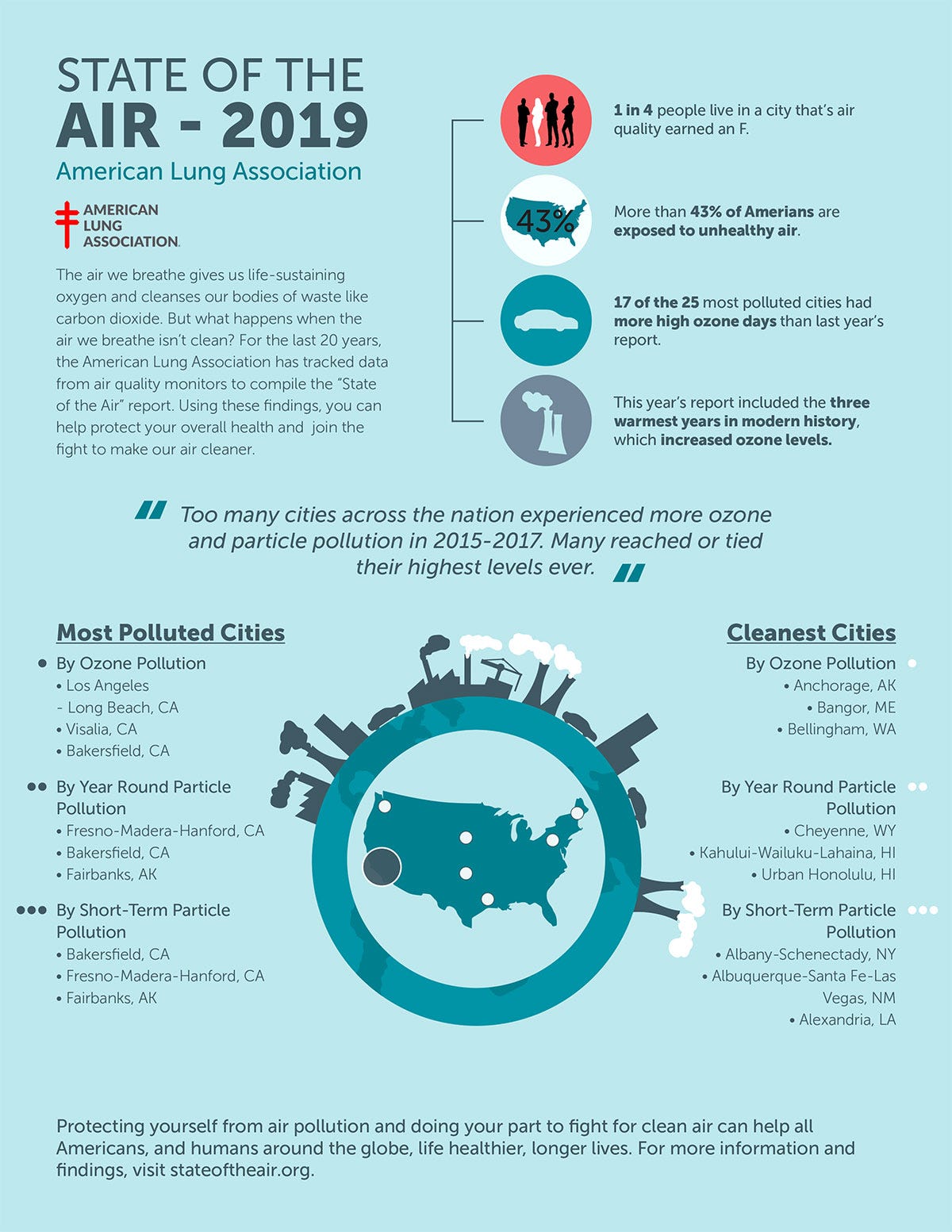 To learn more, view the complete list of 2019's
cleanest city
and
most polluted cities
. If your city isn't on one of the lists, but you'd like to learn more about its air quality, try
comparing your city to one on the list
.
Who is Most At Risk?
Air pollution endangers the health of everyone, but some groups are more at risk than others. If you or a loved one falls into this group, be extra cautious about protecting yourself from pollutants:
People with asthma, COPD, or other lung diseases: individuals in this group already face difficulty breathing, and air pollutants only make the issue worse by exacerbating symptoms.
Children and teenagers: individuals in this group spend more time outdoors, and their lungs are continuing to develop. If exposed to high levels of pollutants, children and teens take on a greater risk of lung disease as they age.
Older adults: older adults become increasingly vulnerable to air pollutants, which can result in respiratory or cardiovascular issues.
People with cardiovascular disease or diabetes: pollution can increase the risk for heart attacks and strokes, which puts individuals in this group at an increased risk for needing medical attention.
People who have lower incomes: individuals in this group typically live closer to highways, factories, and other sources of pollution.
People who work or exercise outdoors: spending more time outdoors increases the amount of air this group inhales, raising their exposure to pollutants
How To Protect Yourself From Ozone and Particle Pollution
By changing you and your family's habits and being mindful of ozone and particle pollution levels, you can help protect you and your loved ones from the dangerous effects of air pollution. Try these tips:
Check your city's air pollution forecast daily and plan accordingly. Reports are available online at airnow.gov, or on local radio and TV weather reports and newspapers.
When pollution levels are high, opt to exercise indoors and limit the amount of time children spend playing outside.
Avoid exercising near high-traffic areas, like highways, even when air quality forecasts are green.
Use less energy in your home and everyday life to improve air quality and reduce your production of greenhouse gases.
Consider walking, biking, carpooling, or using public transportation.
Don't burn firewood or trash - these items are a major source of particle pollution.
Check out the American Lung Association's program, Fighting For Air, to learn more about how you can make an impact.
Protecting yourself from air pollution and doing your part to fight for clean air can help all Americans, and humans around the globe, life healthier, longer lives. To learn more information on how to decrease air pollutants and make our air cleaner, visit American Lung Association's Website,
The State of the Air
.
Information on this page is for reference and educational purposes only. For more information talk to your doctor or primary care provider.
Page last updated: November 1, 2019
Sources:
Gent JF, Triche EW, Holford TR, Belanger K, Bracken MB, Beckett WS, Leaderer BP. Association of Low-Level Ozone and Fine Particles with Respiratory Symptoms in Children with Asthma. JAMA. 2003; 290:1859-1867; Desqueyroux H, Pujet JC, Prosper M, Squinazi F, Momas I. Short-Term Effects of Low-Level Air Pollution on Respiratory Health of Adults Suffering from Moderate to Severe Asthma. Environ Res. 2002; 89:29-37; Burnett RT, Brook JR, Yung WT, Dales RE, Krewski D. Association between Ozone and Hospitalization for Respiratory Diseases in 16 Canadian Cities. Environ Res. 1997; 72:24-31; Medina-Ramón, et al. 2006.
Zanobetti A, Schwartz J. Mortality displacement in the association of ozone with mortality: an analysis of 48 cities in the United States. Am J Respir Crit Care Med. 2008; 177:184-189; Katsouyanni K, Samet JM, Anderson HR, Atkinson R, Le Tertre A, et al. Air pollution and health: A European and North American approach (APHENA). Boston, MA: Health Effects Institute, 2009; Samoli E, Zanobetti A, Schwartz J, Atkinson R, Le Tertre A, et al. The temporal pattern of mortality responses to ambient ozone in the APHEA project. J Epidemiol Community Health. 2009; 63: 960-966; Stafoggia M, et al, 2010.
Di Q, Dai L, Wang Y, Zanobetti A, Choirat C, Schwartz JD, Dominici F. Association of Short-Term Exposure to Air Pollution with Mortality in Older Adults. JAMA. 2017; 318: 2446-2456.
Pope and Dockery, 2006.
D'Ippoliti D, Forastiere F, Ancona C, Agabity N, Fusco D, Michelozzi P, Perucci CA. Air pollution and myocardial infarction in Rome: A case-crossover analysis. Epidemiology. 2003; 14: 528-535. Zanobetti A, Schwartz J. The effect of particulate air pollution on emergency admissions for myocardial infarction: A multicity case-crossover analysis. Environ Health Perspect. 2005; 113: 978-982.
Ghio AJ, Kim C, Devlin RB. Concentrated ambient air particles induce mild pulmonary inflammation in healthy human volunteers. Am J Respir Crit Care Med. 2000; 162(3 Pt 1): 981-988.
American Lung Association: Key Findings of State of the Air