SeQual Product and Company Information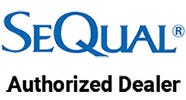 In addition to creating products for the home and military industries, SeQual and Chart Industries are a leading manufacturer of medical devices and oxygen therapy products.
They specialize in oxygen therapy solutions. Their line of oxygen concentrators employ cutting edge technology to offer only the best for both patients and caretakers.
About SeQual
SeQual Technologies develops innovative products for a variety of sectors that make use of pressure swing absorption (PSA) for air separation. This technology is proprietary to the company. Founded in 1991, they have remained focused on oxygen concentrators since 1998. These machines draw oxygen from the surrounding air to provide oxygen therapy to those patients with chronic breathing disorders. Among SeQual's best concentrators are the Eclipse and the high-capacity Integra units.
Besides medical oxygen concentrators, they manufacture other air separation systems that use PSA, mainly in the industrial sector. These systems are top of the line and have received international recognition for their dependability, quality, and performance. SeQual is dedicated to constant improvement and growing its air separation line of products.
They are always looking for new opportunities to develop new air separation products and bring them to their customers and are continually innovating new and existing products, testing them, and refining them for quality and efficiency. This is done in partnership with consumers and customers to bring only the best products to the market.
About the SeQual Products
All of their oxygen concentrators are built around the Fractionator (ATF) module, a proprietary device that efficiently separates oxygen from the surrounding air. The ATF® module brings a new level of efficiency and power savings and allows their oxygen concentrators to be incredibly light and compact.
Eclipse Portable Oxygen Concentrator
The
Eclipse 5 portable oxygen concentrator
offers both pulse dose and continuous flow options that be constantly utilized, 24 hours a day. It is a single solution for oxygen delivery both at home and during travel. The Eclipse is FAA-approved for most air carriers and can be operated on cruise ships and most forms of ground transportation (please check with your transportation provider). With a battery life of over 3 hours and the ability to be charged while in use, the Eclipse combines convenience and portability. A telescoping wheeled cart is also included. These features make the Eclipse ideal for even the most active individuals.
eQuinox Mobile Oxygen Concentrator
The eQuinox is a light, portable oxygen machine with the ability to deliver up to three liters per minute of continuous flow oxygen, as well as providing a wide range of settings of pulse dose. It weighs 12.8 pounds without battery, and only14 pounds with the rechargeable battery.