Video Review of the Inogen One G3
A product review of the Inogen One G3 portable oxygen concentrator by Sean from the Oxygen Concentrator Store.
The Inogen One G3 is one of the most asked about units on the market today. The Inogen One G3 features a pulse dose setting of 1-5 in a compact unit that weighs less than 5 lbs. On a setting of 2, you get an average of 8.5 hours of battery life with the larger battery.
G3 Product Features:
Weighs less than 5 pounds
Small and easy to transport
Up to 5 Pulse Flow Oxygen
Minimal, non-medical design
Extremely quiet at 39 decibels
G3 Product Features:
Inogen One G3 Portable Concentrator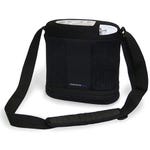 See All Reviews
love it

0 people found this helpful

I really like it I think it is a little heavier than I wanted. Otherwise it is a very nice little machine.

Great customer service

0 people found this helpful

Great customer service. Only thing I would like to comment on is the cannula. It is to long. I would like to see a 4 ft offered also.I catch the 7 ft on everything I have to wrap it around the concentrator.Other wise I really like my Inogen 3.

Professional Service

4 people found this helpful

Just purchased an Inogen G3 and so far seems to be a great machine. I had done a lot of research on "truly portable" POC's and kept coming back to Inogen. With several outfits offering these units, I have to say hands down Luke Corrick with American Medical Sales & Rentals put forth a level of service not seen in years. His product knowledge, patience and attention to detail are unsurpassed. If your're in the market for a POC, you should call Luke first, you will not be disappointed!

Excellent customer service, Avery

1 people found this helpful

We were looking for portable oxygen concentrator for my mom from last 4 months and could't find good company that can explain all our questions, then we found Oxygen Concentrator Store and sales person, Avery helped us throughout the process from selection to placing order. He took a lot of time to go and verify and explains each details to me. I may find $100 cheaper from somewhere else but I won't find this kind of great service and confidence to purchase.
Get Internet Pricing
Complete the fields below to receive Winter Sale Pricing! 
Related Product Information