Video Review of the Inogen One G3
A product review of the Inogen One G3 portable oxygen concentrator by Sean from the Oxygen Concentrator Store.
The Inogen One G3 is one of the most asked about units on the market today. The Inogen One G3 features a pulse dose setting of 1-5 in a compact unit that weighs less than 5 lbs. On a setting of 2, you get an average of 8.5 hours of battery life with the larger battery.
G3 Product Features:
Weighs less than 5 pounds
Small and easy to transport
Up to 5 Pulse Flow Oxygen
Minimal, non-medical design
Extremely quiet at 39 decibels
G3 Product Features:
Inogen One G3 Portable Concentrator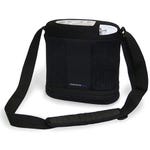 See All Reviews
Professional Service

4 people found this helpful

Just purchased an Inogen G3 and so far seems to be a great machine. I had done a lot of research on "truly portable" POC's and kept coming back to Inogen. With several outfits offering these units, I have to say hands down Luke Corrick with American Medical Sales & Rentals put forth a level of service not seen in years. His product knowledge, patience and attention to detail are unsurpassed. If your're in the market for a POC, you should call Luke first, you will not be disappointed!

Excellent customer service, Avery

1 people found this helpful

We were looking for portable oxygen concentrator for my mom from last 4 months and could't find good company that can explain all our questions, then we found Oxygen Concentrator Store and sales person, Avery helped us throughout the process from selection to placing order. He took a lot of time to go and verify and explains each details to me. I may find $100 cheaper from somewhere else but I won't find this kind of great service and confidence to purchase.

I have had the iogen g3 for over a year and it has allowed me to get my life back.

2 people found this helpful

The unit worked right out of the box, never had a problem. The batteries work great and they last all day. The people at the Oxygen Concentrator store like Carlos Arroyave, and Nick at customer service are great. I will all ways recommend you guys

Great for travel and errands

2 people found this helpful

I have the inogen g3 and it is the best purchase I have ever made. Started having some error alarms that resulted in the machine needing to go for repair. It has been very difficult to get timely information from Oxygen Store. Every person i talk to gives me a different story. Since its warranteed maintenance, it should be a simple process. So basically the sales staff is great but the repair staff is lousy. Hoping it all works out.
Looking for Pricing?
Complete the fields below to receive Summer Sale Pricing! 
Related Product Information