Customer Reviews of the Respironics SimplyFlo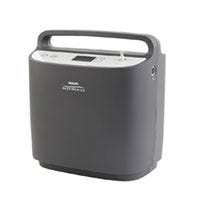 Summary of Customer Ratings & Reviews
Total Customer Review Rating
Product Rating
Review by Dan
on 4/26/2018
Not a single self-contained unit.
Not as quiet as advertised - "noise level around 50 decibels" actual range goes from 48 to 64 as this cycles through every few seconds. Requires a separate inline power transformer to operate. One more thing to forget to pack. Bought online, I wish I could heard one first. Color me not totally impressed.
Product Rating
Review by Pamela J.
on 6/17/2015
Makes business trips easy!
I have to take business trips every few weeks, and I need oxygen at night. The simply flo is very easy to transport, and a much more reasonable price than having to get a portable concentrator that I wouldn't even carry around with me during the day. So glad that a stationary concentrator this small was even an option!
Product Rating
Review by Samantha
on 6/3/2015
Quiet and light
I love how it sits on my nightstand, and doesn't make a whole lot of noise. My old stationary oxygen concentrator buzzed loudly and was a lot bigger, and took up more room in my bedroom. I don't have to walk around this one!
Product Rating
Review by Chad H.
on 4/23/2015
Quiet and affordable
This was the most cost effective option for me, for the amount of oxygen I needed at night. Very quiet, too. I'm very happy with the SimplyFlo.
Product Rating
Review by Ross M
on 4/13/2015
Great
Very convenient for me, since I only need oxygen therapy while I sleep. It was a lot less expensive than the other small oxygen concentrators that are portable. I needed something small, and this is it!.
Product Rating
Review by Betty McNair
on 11/21/2014
Good Website and Info
Good info, great concentrator!
Product Rating
Review by Betty McNair
on 11/21/2014
Good
Good info and good unit.
Product Rating
Review by Bill
on 3/5/2014
Love this machine!
It is really light and portable. Works amazing.
Product Rating
Review by Kevin
on 3/3/2014
Great Stationary Unit
Such a great concentrator! Small and lightweight.
Product Rating
Review by Will
on 12/11/2013
This thing is a huge relief!
I use it when I need to travel on a business trip, but I also use it at home. A portable oxygen concentrator would have cost more for me, and I only need to use it once a day for a few hours on 2 LPM, and a portable oxygen concentrator seemed like more than I needed, and at a higher price than I was willing to pay for what I needed. I'm really happy with it because it's so small, the size of a portable concentrator, and at the price of a home oxygen concentrator. When I'm using it at home, I didn't see much of a jump in my electric bill, a very tiny increase and hardly noticeable. There's really nothing I don't like about this concentrator and I'm glad you guys were offering it.
Product Rating
Review by Dee
on 12/11/2013
My favorite concentrator yet
I love having such a small home concentrator. I couldn't believe how much smaller it is compared to my old one. My old concentrator took up more room than my night stand, and this one fits on top of my nightstand, with room to spare. The noise isn't too much to deal with, and my old one was much louder.

This one doesn't drive away my dog, and my husband no longer sits in the living room to watch TV until he gets tired enough to fall asleep with the noise. It's bearable now. I would recommend this home oxygen concentrator to anyone who needs no more than 2 LPM of oxygen. I was also really happy with the price on this home concentrator.
Product Rating
Review by Lois H
on 12/9/2013
Perfect for Night Usage
I bought this the SimplyFlo because I really only need to use oxygen therapy at night while I'm sleeping. I like to travel once every few months or so to visit my kids and my grand kids who live a few states over. So this was the most logical oxygen concentrator purchase that I could think of. My doctor hadn't even heard of it yet. I got on your website to look at a different concentrator that he suggested but it was bigger and and I didn't want to have to lug something that was 30 pounds when I left home, when there was something that was 9 lbs that gave me the same amount of oxygen."
Product Rating
Review by Steph
on 12/3/2013
Great Machine
This is truly a great home concentrator! It is small and actually smaller than my portable machine. I love it.
Looking for more information?