Customer Reviews of the Inogen One G4
Customer Ratings and Reviews of the Inogen G4 Portable Oxygen Concentrator
Inogen One G4 Portable Concentrator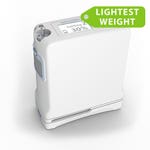 See All Reviews
Portability

4 people found this helpful

I am on oxygen 24/7. With the Inogen One I am able to leave my house for doctor's appointments plus shopping. The 5 hour re-chargeable battery is great as I can do my tasks in one outing. And while we drive to our appointments, the Inogen One is plugged into the car's 12vdc accessory without having to use the battery.

Love the product (an Inogen 4) and am…

7 people found this helpful

Love the product (an Inogen 4) and am enjoying using it - makes me feel so much more secure and gives me so much more freedom! Todd Parker, at the OC Store, was wonderfully patient and very helpful in terms of answering my million questions about his products vs those I'd seen elsewhere. My husband, a savvy fellow and a bit of a skeptic, was the one who finally lost patience with me and said, "Barbara, just order it - now! It's clearly the right one for you." So...I did - and I'm very pleased!

Wonderful

3 people found this helpful

I found myself in a situation that would keep me away from home for a week after delivery date. Luke was absolutely fantastic and was able to get my new best friend delivered to my new destination the day I arrived there. He was fabulous and the G4 cannot be beat. I had to do a lot of walking and it was so easy. Thank you x 3

Thank you gentleman

4 people found this helpful

Thank you gentleman the inogen G4 and the inogen back pack are great there every thing Luke said they would be.

Loud

2 people found this helpful

This is one nosiy machine. You can hear it 3 room s away.
Looking for more information?