Customer Reviews of the Inogen One G4
Customer Ratings and Reviews of the Inogen G4 Portable Oxygen Concentrator
Inogen One G4 Portable Concentrator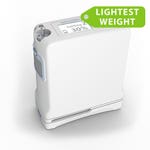 See All Reviews
Easy to Use

0 people found this helpful

The ease to which you can use the oxygen concentrator and get used to it. I wish I had not waited so long.

Nick V

0 people found this helpful

Nick V. was terrific with the sales program--great with questions, very personable and focused on providing me with a great purchase experience. The Inogen one g-4 is a fantastic machine light and powerful, suits my needs to a tee!

Wonderful

1 people found this helpful

My mother received her equipment very quickly. It is easy to use and provides her with much needed freedom. Deborah Montelli was wonderful and so helpful!

I was recently given an Inogen G4

25 people found this helpful

I was recently given an Inogen G4. I have truly enjoyed this gift that was purchased by a woman who used it abd then she passed away. The family asked if i could use it. Long story short after a month of use i noticed a warning that I needed to replace the column. When I called your store and explained what I needed, you very quickly told me what I needed and I purchased a new column. To my surprise within five days I had my new column. It is now working very well again. Thank you for the quick and friendly service. I will definetly use your store in the future.

Portability

23 people found this helpful

I am on oxygen 24/7. With the Inogen One I am able to leave my house for doctor's appointments plus shopping. The 5 hour re-chargeable battery is great as I can do my tasks in one outing. And while we drive to our appointments, the Inogen One is plugged into the car's 12vdc accessory without having to use the battery.
Looking for more information?