Customer Reviews of the Inogen One G3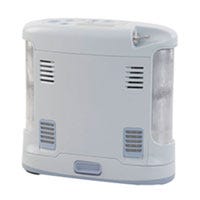 Summary of Customer Ratings & Reviews
Total Customer Review Rating
Product Rating
Review by Hitesh Patel
on 10/31/2018
Excellent customer service, Avery
We were looking for portable oxygen concentrator for my mom from last 4 months and could't find good company that can explain all our questions, then we found Oxygen Concentrator Store and sales person, Avery helped us throughout the process from selection to placing order. He took a lot of time to go and verify and explains each details to me. I may find $100 cheaper from somewhere else but I won't find this kind of great service and confidence to purchase.
Product Rating
Review by Jasmine Steg
on 3/30/2018
Great for travel and errands
I have the inogen g3 and it is the best purchase I have ever made. Started having some error alarms that resulted in the machine needing to go for repair. It has been very difficult to get timely information from Oxygen Store. Every person i talk to gives me a different story. Since its warranteed maintenance, it should be a simple process. So basically the sales staff is great but the repair staff is lousy. Hoping it all works out.
Product Rating
Review by Alan Sederis
on 6/19/2018
I have had the iogen g3 for over a year and it has allowed me to get my life back.
The unit worked right out of the box, never had a problem. The batteries work great and they last all day. The people at the Oxygen Concentrator store like Carlos Arroyave, and Nick at customer service are great. I will all ways recommend you guys
Product Rating
Review by Gloria Pringle
on 3/24/2018
Excellent
I waited for years until I could finally get my G4 portable oxygen unit and I absolutely love it although I won't be mountain climbing anytime soon there's not much I can't do that with my oxygen from in a Jen thank you so much for making a machine just for me
Product Rating
Review by T. Ries
on 2/1/2018
Miracle machine
I travel continually and this machine allows me to travel the world! Have used it in Europe, Asia, South America,Australia and in all parts of the USA. It works fine using both 120 and 240 charging. Easy through security and lightweight.
Product Rating
Review by Jerome Pilgrim
on 9/16/2017
Great product
Great, reliable and backed by a good company. Let's me be free to travel and participate in various events I would miss otherwise. Mine is almost three years old. I would be lost without it.
Product Rating
Review by Ladyvet17
on 2/23/2017
Great unit!
This unit is one of the best investments I've ever made! Worth every penny! I take it everwhere. The only improvement I could suggest is to be able to change it to continuous flow while you're at a movie. Once the sound comes up you can't hear it.l
Product Rating
Review by John D
on 10/16/2015
Great little portable concentator!
I've only had the Inogen for a short time soon far but it's the best I've used.

Product Rating
Review by Rick
on 6/17/2015
Rented then bought
When I went on vacation last year, I rented the G3 rental with two 16 cell batteries. I liked it so much that when I got back, I decided to buy it. I was impressed by how long the batteries lasted, and how quiet it was, among other things!
Product Rating
Review by Terri
on 6/3/2015
Easy and efficient
This is perfect for traveling in every way. I used to have an older portable oxygen concentrator that didn't charge up as fast, and was much heavier. I'm glad that I can get the oxygen, 4 LPM pulse dose from a smaller and more efficient concentrator.
Product Rating
Review by Marsha
on 5/11/2014
Great!
i think it is great! I go out with it for long periods of time. One of the best ones i have had.
Product Rating
Review by Chris I
on 4/23/2015
So happy
It's so nice to be able to go out while still getting the oxygen I need. I hated being confined to my house, even when I didn't want to go anywhere. I take my G3 everywhere and I'm very pleased with its performance.
Product Rating
Review by james wallace
on 4/15/2015
XLNT !
Xlnt choice ! I did a great deal of research before I chose this one ... Quite happy with it. It is very high quality, and well made ..battery life is XLNT.. Freedom to go anywhere now
Product Rating
Review by Glen
on 4/13/2015
Keeps me going
This concentrator works great for me, but what I really love is the long battery life. I use the 16 cell battery because I use it for many hours each day. Keeps me off the couch and out of the house most of the time.
Product Rating
Review by Bill
on 12/8/2014
Great Product
I researched and then confirmed by looking at a friend's unit before ordering. I was convinced this is the lightest with good battery life. After using it for a month, I am convinced I made the right decision to chose this unit. It has performed well, is easy to carry and has very good battery life.
Product Rating
Review by Tony
on 10/3/2014
Excellent Mobile Unit
Excellent, very comfortable and lite weight!
Product Rating
Review by James
on 8/27/2014
Frequent Repair Issues
My experience with this unit is less than good. I have had it for less than 2 years and it is now going back for the third time for Low O2. This is now the 3rd time in less than a year. I am told it is due to the humidity in Florida even though the last issue was during the dry cool winter and much of the use is in an A/C environment There is also no apparent way to contact Inogen directly. Have to work through this company that sold it, who simply writes up anther RMA to return to Inogen for which I pay the shipping and then I also have to rent a unit, if needed, whlle mine is in the repair cycle.
Product Rating
Review by FERNANDA DA GAMA ROSE
on 5/8/2014
EXCELLENT AND QUIET
MY HUSBAND IS USING THIS 24 X 7 AND IT IS QUIET, PORTABLE AND GREAT! WE LIVE IN KENYA WHERE IT IS DUSTY - I JUST REMOVE THE FILTERS, WASH THEM AND THE MACHINE WORKS WONDERFULLY! ONLY QUSTION I HAVE IS NOT SURE HOW OFTEN TO REPLACE THE FILTERS!
Product Rating
Review by douglas smiley
on 2/10/2014
Asked about the G2 and G3 Inogen
Very informative, and pleasant conversation.
Product Rating
Review by mary hardy
on 11/14/2013
Very pleased with the G3 machine.
This machine is truly portable.The backpack for it also is impressive.Great portable concentrator.
Product Rating
Review by Torin O.
on 8/29/2013
Wow!
The battery life is fantastic on this portable concentrator. I highly recommend the 16-cell battery, especially if you are very busy.
Product Rating
Review by jim Q
on 8/28/2013
So light
I couldn't believe how light it is for how powerful it is. Inogen really knows how to make a portable concentrator. I also like that there is a choice in battery size.
Product Rating
Review by Ollie V.
on 8/27/2013
Can't be beat
I've seen many of my patients with portable oxygen concentrators, but when I saw this one in use I was pretty impressed. I'll always recommend this one to any one of my patients. So small but so many features and great quality.
Product Rating
Review by Dina
on 8/26/2013
size and pulse range
I was comparing portable concentrators to size, weight and range of pulse dose, and this one seems to come out on top in both of those aspects. This was a no-brainer. I'm glad I was able to get this portable concentrator.
Product Rating
Review by Gary B
on 8/21/2013
Stands the test of time
I wanted to wait before I reviewed my Inogen One G3 so I knew it would last. I've had mine for 2 years and want to say that it still works just as well as the day I got it. The changing of filter is reasonable maintenance, and that's it!
Product Rating
Review by Meets my oxygen requirements
on 8/20/2013
Mica
This changes when I'm resting, and drops just enough to where I need it without being hit with too much oxygen. Very smart design and great features for such a little machine. I'm happy with this concentrator.
Product Rating
Review by Rachel
on 8/19/2013
Quiet and inconspicuous
The website said 38 decibels and I didn't know what that meant at first, but I guess it just means that it's quiet! I forget that it's even on. It's also tiny which is another plus.
Product Rating
Review by Gianni
on 8/19/2013
Great and worth the money
I wanted to get it right the first time and get the most bang for my buck with my portable oxygen concentrator. This is one was definitely the right choice. It's small size battery life and features are worth every dollar.
Product Rating
Review by Barb T
on 8/16/2013
Wonderful concentrator
I couldn't find anything wrong with this thing. I love how small and quiet it is, that's the best part. I almost feel like I'm not even using an oxygen concentrator most of the time.
Product Rating
Review by Ellis A.
on 8/16/2013
Very satisfied
I had the G2, but really this thing is smaller with the same features and everything. The smaller size made it that much more worth it, though! Great for taking with you to go cycling.
Looking for more information?