Philips Respironics Product and Company Information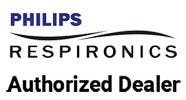 Philips Respironics is a manufacturer of oxygen therapy products designed for patient independence while reducing provider costs.
Respironics oxygen concentrators offer proven dependability and high quality. Their
flagship portable oxygen concentrator, the SimplyGo
, is a light, compact design engineered for easy operation. Its excellent portability makes it ideal for all patients, even those with very active lifestyles. Respironics promises the best in oxygen therapy reliability and performance.
About the Respironics
Philips is based in the Netherlands and officially known as Royal Philips Electronics. It is a very diverse company that designs products for healthcare, lifestyle, and lighting. Their driving principles are "sense and sensibility" and "well-being." Philips has about 128,000 employees and a presence in over 60 nations.
As a company, Philips' goal is to improve quality of life through health and well-being, including security, safety, and adding to a sustainable civilization. Below is a brief summary of some of Philips' recent milestones and accomplishments.
In 2008, Interbrand ranked Philips as 43rd in the top 100 global brands, with a value of $8.3 billion.
Also in 2008, Philips was selected as the recipient of a Gold IF design award for their consumer website.
Ethisphere Magazine honored Philips as one of the World's Most Ethical Companies in 2008.
Philips is one of the leading manufacturers in the world of cardiac defibrillators, lamps, electric shavers, and flat screen televisions.
About the Products
Within Philips' healthcare division, the Respironics Oxygen Concentrator line is focused on helping people breathe easier and sleep more soundly with respiratory therapy solutions and efficient drug delivery products.
Sleep Solutions
Philips was responsible for the creation of the first commercial CPAP unit in 1985. Research and innovation has continued over the years with new BiPAP systems, flexible pressure relief, and SmartCard data monitoring systems.
Sleep therapy devices. Philips has been responsible for the development of auto-CPAP, BiPAP and pulse oximetry monitoring systems to aid in data gathering and patient compliance.
Masks. Philips offers a full line of masks for use with CPAP and BiPAP machines, including full.
face, pediatric, and minimal contact models. These are available in various comfortable styles to meet patients' needs.
Diagnostics systems. Both in-home and sleep lab diagnostic systems have been developed by Philips with an eye toward offering the best in sleep apnea diagnosis accuracy.
Respiratory Therapy
The company also manufactures a wide range of oximetry monitors and oxygen concentrators for patient use in the home.
Oxygen. Through its Respironics division, Philips provides portable oxygen concentrators to allow patients freedom of movement and travel without sacrificing oxygen delivery efficiency. This is embodied in the Respironics SimplyGo, an incredibly versatile and portable oxygen concentrator.
Pulse Oximetry. Philips' oximeters combine a lightweight design with long battery life to give patients and providers peace of mind in a dependable tool.
Drug Delivery
Respironics also provides a variety of respiratory drug delivery solutions.
Nebulizers & Compressors. Efficient drug delivery in a lightweight, compact design is the hallmark of the Respironics line of nebulizers and compressors.
Asthma Management. The AsthmaPACK kits provide information and tools for asthma patients to get the most from their medications and therapy.
Spacers & Holding Chambers. These are a versatile line of products designed for any lifestyle and maximum portability.
Peak Flow Meters. Peak flow meters by Respironics are used to provide accurate information to assist in patients' diagnoses and treatment plans.
IMT/PEP. These are fully adjustable and measurable threshold devices that maintain constant pressure via one-way valves that are flow-dependent.