Continuous Flow Portable Concentrator Buying Guide
You have options if you're looking for continuous flow oxygen with portability or want a machine that offers both oxygen delivery methods. This guide will show you what you need to know about oxygen concentrators and what to look for when purchasing a portable oxygen concentrator with continuous flow oxygen therapy.
Continuous Flow vs. Pulse Dose Delivery
Pulse dose oxygen means that oxygen is delivered only when you inhale. Each machine varies in how much oxygen gets delivered with each setting. For example, a flow setting of 2 on one machine does not necessarily equal a setting of 2 on another unit, so always talk with your physician to ensure you get the right amount of oxygen.
Continuous flow means that oxygen is continuously delivered from the machine through your cannula or mask. Continuous flow prescriptions appear liters per minute.
How Do Continuous Flow Oxygen Concentrators Work?
Unlike oxygen tanks with a limited amount of oxygen, concentrators work by drawing in the air surrounding the machine, filtering the air, and removing nitrogen and other gases. What's left after this process is around 90 percent pure oxygen delivered to you via nasal cannula or mask.
With continuous flow oxygen delivery, the machine delivers a constant flow of oxygen, measured in liters per minute. Continuous flow concentrators are often more suitable than pulse dose machines for patients with higher oxygen demands.
Please note that if a machine offers about 90 percent pure oxygen, this does not mean you're breathing in 90 percent oxygen. How much oxygen you're inhaling depends on factors like flow settings, respiratory rate, and how deeply you breathe. If interested, read more about oxygen percentages here.
Prescriptions for Oxygen Concentrators
The Food and Drug Administration (FDA) considers oxygen concentrators medical devices and requires a prescription to use one. So before researching a suitable device, make sure you have your prescription. Your prescription will specify how much oxygen you need, usually by liters per minute. Doctors sometimes recommend a particular oxygen concentrator and prescribe a set liter flow.
Please note that a set liter flow on a pulse-dose machine is not the same as liters per minute with continuous flow devices. If you're unsure about your prescription, check with your doctor since too much or too little oxygen can harm your health.
Your provider should also inform you how often you'll need to wear your supplemental oxygen, whether it's around the clock, only during sleep, or with physical activity. Once you understand your prescription, you can decide which features are essential to you.
Features to Look For In a Continuous Flow Portable Oxygen Concentrator
When looking for a suitable POC for you, consider these factors:
Does the POC deliver the number of liters per minute you require?
Do you need oxygen 24/7, during sleep, or while you're active?
Do you travel?
Would you be most comfortable with a small, portable unit?
Other features to consider are the machine's noise level, warranty options, battery duration and recharge time, whether it's FAA-approved for airline travel, and its size and weight.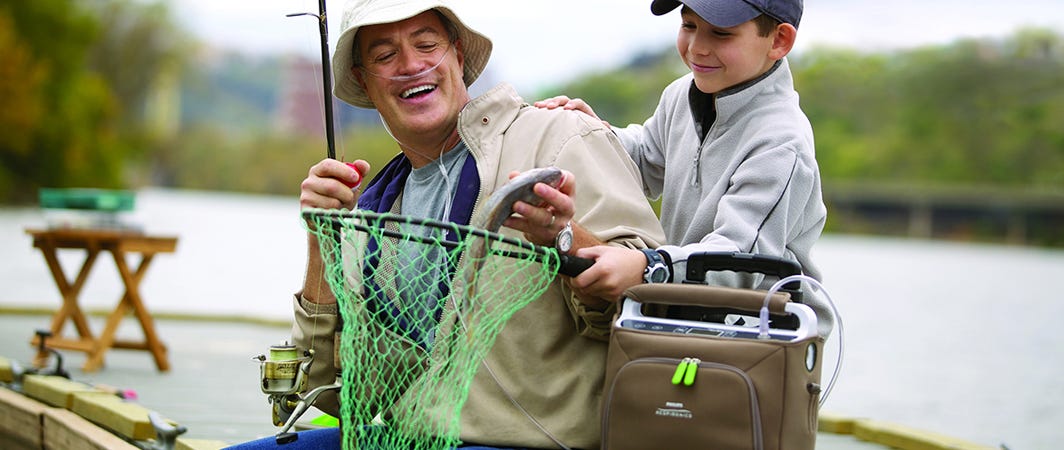 Top POCs With Pulse Dose and Continuous Oxygen Delivery
---
Caire's SeQual Eclipse 5 is one of the most powerful units offering wide ranges of pulse dose and continuous flow. Easily maneuver this POC with the included slim and light carrying cart with wheels, and charge it while using it in the car.
SeQual Eclipse 5 Features:
Continuous flow: 0.5 - 3 LPM
Maximum Oxygen Output: 3,000 ml per min (3 LPM)
Pulse dose settings: 9 settings (16-192 ml)
Oxygen Purity: About 90%
Weight: 18.4 pounds with the battery, 15 pounds unit only
Dimensions: 19.3" tall x 12.3" wide x 7.1" deep
FAA-approved: Yes
Warranty: 3-year manufacturer warranty; 1-year warranty on accessories
Battery duration: Up to 5.4 hours on pulse dose; up to 3.7 hours on continuous flow
Noise Level: About 48 decibels on continuous flow; about 40 decibels on pulse dose
Accessories Included:
The Eclipse unit
User's manual
AC and DC power adapter
Accessory bag
One battery
Carrying cart
Nasal cannula
Philips Respironics, one of the leading manufacturers of oxygen products, developed the SimplyGo, a lightweight and portable concentrator weighing only 10 pounds.
SimplyGo Features:
Continuous flow: Up to 2 LPM
Maximum Oxygen Output: 2,000 ml per minute (2 LPM)
Pulse dose settings: 1-6
Oxygen Purity: 87-96%
Weight: About 10 pounds with the battery
Dimensions: 11.5" wide x 6" deep x 10" high
FAA-approved: Yes
Warranty: 3-year manufacturer's warranty on the unit; 90-day on accessories
Battery duration: Up to 3 Hours with continuous; up to 3.4 hours with pulse dose
Noise Level: 43 decibels at a setting of 2
Accessories Included:
The SimplyGo unit
User's manual
AC and DC power supply
Accessory bagv
Carrying cart
Nasal cannula
Manufactured by O2 Concepts, the Oxlife Independence offers affordability and portability with continuous flow and pulse dose oxygen delivery. This unit includes a carrying cart with built-in wheels and delivers up to 3 LPM.
Independence Features:
Continuous flow: Up to 3 LPM
Maximum Oxygen Output: 3,000 ml per minute (3 LPM)
Pulse dose settings: 0.5-6
Oxygen Purity: About 90%
Weight: About 16.7 pounds
Dimensions: 10.9" wide x 8" deep x 20.2" high
FAA-approved: Yes
Warranty: 5-year warranty on the unit; 1-year on batteries and accessories
Battery duration: Up to 5.25 hours with continuous flow; up to 6 hours with pulse dose
Noise Level: 40 decibels
Accessories Included:
The Independence unit
Two batteries
AC and DC power adapters
Cart with 6" wheels
Accessory bag
Nasal cannula
User's manual
---
Portable Continuous Flow Video
Updated: August 9, 2022