Your Price
$999.00
List Price
$1,199.00
100% Satisfaction Guarantee
Friendly Customer Support
Same Day Shipping Available
Serving Over 150,000 Happy Oxygen Users
---
Questions? Talk to the Oxygen Experts!
A+ BBB Rating
Excellent Trustpilot Customer Rating

Price Match Guarantee
Our sleek design has 1/3 fewer components to pack than other travel PAPs,* and DreamStation Go offers the same therapy and comfort features enjoyed by over 5 million PAP users. * When compared against HDM Z1 and Somnetics Transcend devices (2016).
Philips DreamStation Go Auto Travel CPAP Machine Description
Reimagining the Travel CPAP Machine
Built-In USB Charging Port Allows for easy charging of cell phones or other devices, leaving outlets available for lamps, alarm clocks, etc.
Overnight Battery* If you plan on traveling off the power grid, DreamStation Go's overnight battery can help you stay committed to your therapy. DreamStation Go set at 10cm of pressure displayed an average run time of 13 hours** when running off the Dreamstation Go overnight battery. Battery run times may vary due to higher CPAP pressure settings, excessive mask leakage, altitude, temperature, charging devices with USB port and others.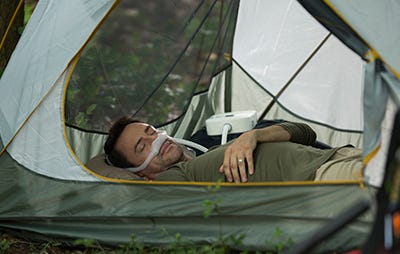 Micro-Flexible Tubing New 12mm micro-flexible tubing is Philips smallest and lightest we've ever offered, providing enhanced, packability, flexibility and freedom of movement while you sleep. Comes with your DreamStation Go purchase.
*Sold separately. **PAP run-time test conditions: CPAP mode, pressure 10 cm H2O, 12mm tubing, 37LPM of leak, 73.4 F room at an elevation of 1650 feet.
More Information
Product Features
Built-in power supply Compact footprint Reduces the number of parts to carry when you travel Intuitive color touchscreen
Manufacturer
Philips
Dimensions
5.9" W x 5.9" D x 2.3" H (15 cm W x 15 cm D x 5.8 cm H)
Product Weight
1.86 pounds (844 g)
FAA Approved
N/A
Warranty
2 Year Warranty
Ramp Time
0 to 45 minutes (5 minute increments)
Starting Ramp Pressure
Patient adjsutable, Smart Ramp
Filters
Reusable pollen
Power
100-240 VAC, 50/60 Hz
Items in the Box
Includes Dreamstation Go CPAP Machine, power supply, tubing and user's manual.
Data Storage Capacity
On-board: >1 Year MicroSD Card (optional)
Pressure
4 to 20 cm H2O
Flex Pressure Relief: 1 to 3
Modes
Pressure Mode: CPAP Flex Modes: C-Flex, C-Flex+
Additional CPAP Information
Device Setup: Touchscreen Color Display Compliance Meter: Breathing detection Altitude Compensation: Automatic
Software Features
Data Storage Capacity: On-board: >1 year, MicroSD card (optional)
Philips DreamStation Go Auto Travel CPAP Machine Videos
Philips DreamStation Go Auto Travel CPAP Machine Literature
Get Internet Pricing
Complete the fields below to receive Fall Sale Pricing!