Buying Guide to Medicare and Purchasing an Oxygen Concentrator
If you're out researching oxygen therapy, it's likely that you are on oxygen and don't like the solution you currently have. Most patients who are on oxygen start out with the solution that has been "provided" for them without really knowing all of the alternatives that are available. We understand how confusing this can be. Well, take a deep breath and continue reading.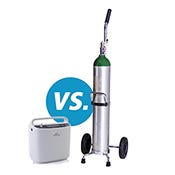 Below we've compiled an easy guide to help you understand your alternatives including Medicare, Medicaid, supplemental insurance, financing options, and more!
First and foremost you'll need to understand your medical requirements. When you were first diagnosed as needing oxygen therapy, you were likely provided a solution that included a large home or "stationary" unit for use at night and when you are at home as well as oxygen tanks for excursions outside the home. These units should have been set to a prescribed level (typically measured in liters per minute of oxygen flow). These settings, as well as your prescription, will help our oxygen experts understand exactly which units will best meet your medical needs.
Regaining Your Freedom
The good news is that there are more options for oxygen therapy available to you than the standard issued home (stationary) concentrator and oxygen tanks. We have compiled excellent information below regarding the innovations in home concentrators as well as alternatives to oxygen tanks – the portable oxygen concentrator.
Portable Oxygen Concentrators:
Portable oxygen concentrators (or POCs) have been on the market for almost 20 years. They operate the same way as a home concentrator in that they are able to take air and
convert it into medical grade oxygen
.
Portable concentrators were designed to provide patients with more freedom than a tank. The biggest benefit is that a POC will never run out of medical grade oxygen, is generally small and light, and does not require any refills – only a power source. Portable machines can vary greatly in oxygen generating capacity, size, battery life, and cost.
Home Concentrators:
As a quick review, a stationary concentrator is designed to provide a patient with medical grade oxygen while in the home. They run only on AC (wall outlet) power. These units are robust and typically kept in a central location and operated from within the home environment with a long tube (up to 50 ft) providing oxygen to a cannula. Many of the older units can be loud, energy intensive (often over 600watts) and heavy (some are over 50 lbs). The typical home concentrator has settings from 1 liter per minute to 5 liters per minute of oxygen flow.

The good news is that newer technology has improved on all of the key features. Units are much quieter (up to 15 – 20 db quieter), more energy efficient (some as low as 200 watts), and much lighter (as light as 10 lbs).
How to determine what POC is right for you?
Our trained experts will ask questions to help understand your needs and then walk you through an easy selection process. But first, there are a few key factors in selecting a POC.
Oxygen Generating Capacity:
This is the most important aspect of your selection because it insures your medical needs will be met. It is important that you know and understand both what your medical requirements are as well as what any POC you consider can provide.
Most oxygen being delivered is prescribed in liters per minute (lpm) of continuous flow. The most common flow setting is 2 lpm with about 70% of oxygen users on this setting. Newer technology POCs disburse the oxygen is something called a "pulse dosage" (or pulse dose). In pulse mode, a small bolus (or puff) of oxygen is delivered via the cannula every time a patient takes a breath. Most equipment has pulse settings of 1-3 or 1- 5 etc. A range of settings allows a patient to adjust the dose to fit their exertion levels. Our oxygen experts will help make sure the size unit chosen will fit your needs.
Size:
Most people will have a selection of units that will meet their medical needs and they will be able to select from a group of units the ones that will best match their lifestyle. POCs can range in size from as small as 2 lbs to as large as 18 lbs and everything in between. This range opens up a wide range of activities – for instance the lightness of the 2 lb unit is best suited for light exertion daytime use while at the other end of the scale, the 18 lb unit is the most powerful on the market and good for 24 hour use.
Battery Life:
Portable units provide patients with freedom but they do require a power source. All of our POCs run on 3 types of power: AC (wall outlet), DC (car cigarette lighter) and Batteries. One of the distinguishing factors between portable units is their style and longevity of battery life. Some units have an internal battery that lasts an hour and other units have batteries lasting up to 8 hours. Most batteries are lithium ion rechargeable batteries. Battery life varies with both the unit and the setting the unit is being run on. Ask our oxygen experts to help explain the battery life tables for the units in which you are interested.
Cost:
Not surprisingly, the cost of POCs can also vary greatly. Like most electronics, the newest and smallest technology is typically the most expensive. Alternatives do exist however and there are several high quality units available across a range of prices. Additionally, as portable concentrators have become more popular, we have been able to offer our customers gently used products at a more attractive price point. New POCs roughly run from $1,800 - $4,500. Used units can be typically found between $995 - $2500. Used home units can be found from $499.
Medicare Portable Oxygen Concentrator
Cost:
If you currently are on oxygen therapy, it is likely that your current oxygen solution was covered under Medicare, insurance, or a combination of the two. The most common question we get is, "Will Medicare cover the purchase of a new POC?" In order to best help navigate this question, we have created the following tutorial. We know it is confusing, so feel free to call and talk to one of our oxygen experts.
Will Medicare cover the cost of my POC?
It seems like there should be a simple YES or NO answer to this question but unfortunately there is not. The best way to explain the situation is to start with a few facts, and then a few FAQs.
Medicare Facts:
Medicare coverage for Oxygen Therapy Equipment is provided via a long-term (5 year) monthly rental contract through a Medicare provider. Medicare pays providers a monthly FEE for providing patients with oxygen.
A Medicare provider is required to provide a patient with a solution for within the home (home or stationary concentrator) if the patient only needs oxygen at night or a home concentrator and a portable solution (i.e. tanks or POC) if the patient needs oxygen 24 hours a day.
A Medicare provider is NOT required to provide a patient any particular equipment and specifically, does not need to provide a patient with a portable oxygen concentrator. The most common solution is a stationary "home" concentrator and refillable oxygen tanks.
Medicare does not reimburse for any out-of-pocket expenses and Medicare will NEVER pay for the PURCHASE or short-term rental of an oxygen concentrator.
Many supplemental insurance companies WILL cover some or all of the PURCHASE or RENTAL of a portable oxygen concentrator.
Based on these facts, it is our recommended action to always start by talking to your current Medicare or Insurance provider and see if they will provide you with the equipment you are looking for.
Additional FAQs on Medicare and Insurance: