Your Price
$2,882.00
List Price
$3,195.00
100% Satisfaction Guarantee
Friendly Customer Support
Same Day Shipping Available
Serving Over 150,000 Happy Oxygen Users
---
Questions? Talk to the Oxygen Experts!
A+ BBB Rating
Excellent Trustpilot Customer Rating

Price Match Guarantee
Pulse Dose
4.7 Pounds (with Single Battery)
Intelligent Oxygen Delivery Technology
Up to 6.5 Hour Battery Life (Single battery, Setting of 1)
Includes the G5 unit, single battery, AC power supply, DC power cable, carry bag, cannula and manual.
Packages Starting at $2,495
Inogen One G5 Portable Concentrator Description
Introducing the newest machine from the awarding winning line of Inogen portable concentrators; the Inogen One G5. The Inogen G5 is a robust and versatile concentrator that provides 1 to 6 flow settings in a lightweight design weighing under 5 pounds. Utilizing Intelligent Delivery Technology, it is capable of 24/7 oxygen delivery with oxygen production of 1260 ml. It also features a long battery life, access to Inogen Connect, a large and user-friendly LCD screen, and quiet operation. The Inogen One G5 is a step forward in oxygen therapy innovation and is the ideal portable oxygen concentrator for any setting.

The Inogen G5 weighs less than 5 pounds with the single battery and measure at 7.19 inches wide x 3.26 inches deep x 8.15 inches high; making it one of the wearable concentrator on the market. The G5 batteries were designed and tested to be long-lasting. The single battery can last up to 4.5 hours at a setting of 2, and the double battery can last up to 9 hours. The rechargeable Lithium-ion batteries also have a faster than average recharge time at around 4 hours with the small battery and on the average of 8 hours for the large battery.


Inogen One G5 Highlights
---
Lightweight
The Inogen One G5 is lightest of all the units that go up to a setting of 6, weighing only 4.7 pounds with a single battery.
1 - 6 Pulse Settings
Designed for 24-hour usage and featuring an easy-to-use display, Inogen G5 can be operated on 1 to 6 flow setting.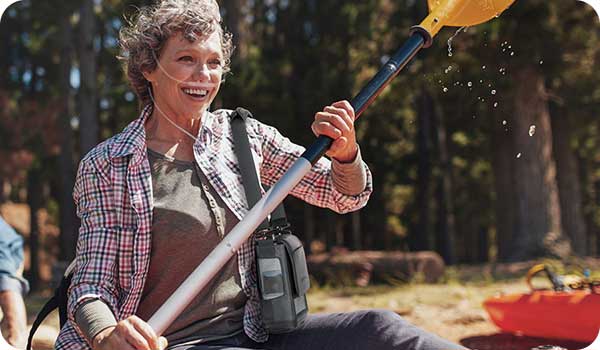 Active Lifestyle
The G5 is increasingly becoming a preferred choice for an active lifestyle. With its long battery life and FAA-Approval, it can be used in flight.
What's Included with the G5
---
G5 Unit (IS-500)
Single Lithium Battery (BA-500)
Custom Carrying Bag (CA-500)
AC Power Supply (BA-501)

DC Power Cable (BA-306)
Nasal Cannula

G5 Manual
More Information
GTIN
00817131020162
Product Features
Designed for full time usage; 24/7
Single battery lasts up to 6 hours 30 minutes and double battery can go up to 9 hours
Inogen Connect Mobile Application
FAA Approved
Quiet operation at only 38 decibels
Manufacturer
Inogen
Dimensions
7.19 inches Wide x 3.26 inches Long x 8.15 inches High with single battery
7.19 inches Wide x 3.26 inches Long x 9.03 inches High with double battery
Product Weight
4.7 pounds with single battery
FAA Approved
Yes
Warranty
Three Year Standard Warranty; Accessories and Sieve Beds: 1 Year
Battery Charging Time
Single Battery: Up to 4 hours
Double Battery: Up to 8 hours
Battery Duration
Single Battery: Up to 4.5 hours
Double Battery: Up to 9 hours
Flow Settings
Pulse Dose Delivery: Six flow settings - 1, 2, 3, 4, 5, 6
Maximum Oxygen Output
1260 ml/min
Noise Level
39 decibels at a 2 pulse dose setting (equivalent to quiet conversation), Maximum of 58 decibels
Oxygen Purity
90% - 3% /+ 6% at all settings
User Interface
Simple control functions and easy-to-read LCD display
Items in the Box
Includes the G5 unit (IS-500), single lithium ion battery (BA-500), custom carrying bag (CA-500), AC power supply (BA-501), DC power cable (BA-306), cannula and user's manual.
Inogen One G5 Portable Concentrator Videos
Inogen One G5 Portable Concentrator Literature