SeQual Eclipse 5 Manual and User Guides
View, download and print PDF product manuals and user guides for the SeQual Eclipse 5 portable oxygen concentrator. Important topics in description, user Interfaces, operating instructions, signals (including alarms), power supply options, cleaning/care/maintenance and troubleshooting for the SeQual Eclipse 5.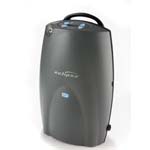 Eclipse 5 Manual
Eclipse 5 Brochure
Eclipse 5 Reference Guide
Click the following link to view
SeQual Eclipse 5 specifications
.