Are oxygen concentrators covered by Medicare?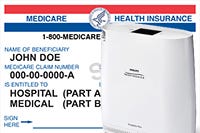 Yes, Medicare does provide solutions for oxygen therapy, however, getting Medicare to cover the cost of portable or home oxygen concentrator and respiratory equipment can be a long and difficult process.
There are situations when a new patient will be provided an oxygen concentrator from Medicare. If the patient is currently under contract for oxygen with a provider, they must contact their current oxygen provide to see if they can provide a portable unit.
Questions and Answers to Medicare and Respiratory Oxygen Equipment
Medicare coverage for oxygen equipment is provided via a long-term (5 years) monthly rental contract through a Medicare provider. Medicare pays providers a fee for providing patients with oxygen therapy.
A Medicare provider is required to provide a patient with an home solution (stationary concentrator) if the patient only needs oxygen at night and a portable solution (POC or oxygen tanks) if the patient requires oxygen 24 hours a day.
A Medicare provider is not required to provide a patient any specific equipment. The most common solution is a stationary or home concentrator and refillable oxygen tanks.
Medicare will not reimburse for any out-of-pocket expense and Medicare will not pay for the purchase of a short-term oxygen rental.
Learn more about
Medicare and Insurance Requirements and Qualifications
.