Are you looking to gain more flexibility and freedom this holiday season? Are everyday tasks like going to the grocery store, visiting family, and traveling becoming hindered and difficult due to the uncomfortableness or bulkiness of your current oxygen solution? Forget the hassle! Stay hands-free and on the go with a comfortable and lightweight backpack!

Backpacks often feature extra compartments (Like the image on the left) for additional batteries, cords, accessories, and more! Attractive, sleek, and effective; POC backpacks help you regain the freedom you deserve! Many portable oxygen concentrators have affordable backpack as well as carrying cases, carry straps, and carts to make your life easier! Interested in learning how to make your unit more portable? Fill out the form below or call 1-888-743-0156!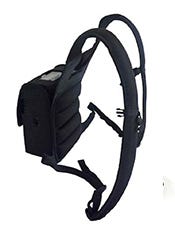 FreeStyle 3 and 5
The AirSep Freestyle backpack is a convenient way to transport your mobile concentrator. It features comfortable ergonomic curved straps for comfort and is designed to fit almost any user! The unit easily fits inside and was designed for safety. The backpack is made with the highest quality polyester and is machine washable!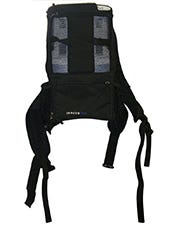 Inogen One G3
The Inogen One G3 backpack is the perfect addition for the active oxygen user. It features a mesh shell with vents to ensure no overheating. Specially designed openings located on the top of the backpack will allow you to connect AC/DC power cords or cannulas without having to take it off!
Inogen One G2
This full-sized Inogen One G2 backpack features a main compartment for carrying the Inogen One G2 and a lower pocket for extra accessories. Its shock absorbing adjustable straps help provide proper fit and comfort. Not to mention the high quality polyester material is weather resistant!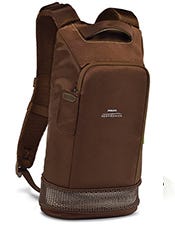 SimplyGo Mini
Available in brown and black, the SimplyGo Mini backpack is an attractive alternative to the traditional carry case. Zipper pouch for paperwork, prescriptions, accessories, and integrated openings for cannulas and power cords make this backpack a travelers dream! Convenient carry handle on top and adjustable padded shoulder straps allow the SimplyGo Mini to simply go anywhere!
---
Interested in going hands-free or learning more? Fill out the form below or call 1-888-743-0156!