Oxygen Concentrator Store Financing Options
Financing from an Oxygen Partner You Can Trust
In addition to our standard payment options of cash, credit cards, and wire transfers, Oxygen Concentrator Store has several affordable financing solutions available for our customers.
Financing an oxygen concentrator or sleep product can seem a little overwhelming, particularly for a first-time buyer. But understanding financing doesn't have to be a difficult process. Once you've selected the accurate oxygen product, you have two payment options: pay in full or finance the product. Financing will increase the total cost of the product. This is because you're paying for the cost of credit (interest and other loan costs) in addition to the cost of the product.
Our oxygen specialist will work hard to secure the best deal for you with a process that's as stress-free as possible.
Interested in financing an oxygen product? Learn more below to get started:
Affirm
Affirm offers easy financing – without a catch with no gimmicks like deferred interest or hidden fees.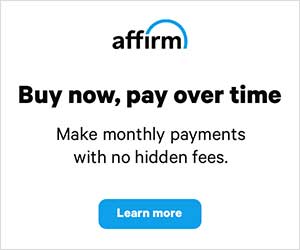 Affirm strives to keep you out of unhealthy debt by providing fair, transparent credit so you can pay over time for the things you love. We offer affordable monthly payments at a pace you choose—usually 3, 6, or 12 months—so you're in control. From day one, you know how long you'll pay, and you know how much you'll pay because we never charge late fees or other hidden fees.
Read the Affirm Help Center for Frequently Asked Question
Why Customers Select Affirm
Quick and easy: Enter a few pieces of information for a real-time decision. Checking your eligibility won't affect your credit score.
No hidden fees: Know exactly what you'll owe before you commit. There are no hidden costs and no surprises.
Affirm will remind you of any upcoming payments via email or text and has a dedicated customer service team for any questions you have.
CareCredit
For nearly 30 years CareCredit, from Synchrony, has helped millions of people pay for needed and desired care and health expenses. CareCredit is a health, wellness and personal care credit card accepted through a national network of more than 195,000 healthcare providers and health-focused retailers.
With shorter term financing options of 6 months no interest is charged on purchases of $200 or more when you make the minimum monthly payments and pay the full amount due by the end of the promotional period. If you do not, interest is charged from the original purchase date.* This also extends longer term healthcare financing for 24, 36 or 48-month periods with Reduced APR and Fixed Monthly Payments Required Until Paid in Full.
CareCredit Advantages
Credit decision within seconds
Small, affordable payments, designed to fit any budget
6 months deferred interest or 24, 36 or 48 months financing options
Manage your account from a convenient website
* No interest will be charged on the promotional purchase if you pay the promotional purchase amount in full within the 6 month promotional period. If you do not, interest will be charged on the promotional purchase from the purchase date. If your purchase qualifies for a 24-month promotional offer, fixed monthly payments are required equal to 4.1667% of initial promotional purchase amount until promotion is paid in full. The fixed monthly payment will be rounded up to the next highest whole dollar and may be higher than the minimum payment that would be required if the purchase was a non-promotional purchase. For all other promotional offers, the regular minimum monthly payment terms of the account will apply. Regular account terms apply to non-promotional purchases and, after promotion ends, to promotional balance, except the fixed monthly payment will apply until the promotion is paid in full. For new accounts, Purchase APR (interest rate) is 26.99%. Minimum Interest Charge is $2. Existing cardholders should see their credit card agreements for their applicable terms. Subject to credit approval.
Paypal Credit
Paypal Credit is a PayPal service that lets you buy now and pay later. Think of it as a secure, instant, and reusable credit line without the plastic. Paypal Credit is available as a payment option at thousands of online stores and once added to your PayPal account, it can be used almost everywhere PayPal is accepted.
To apply, simply enter your
birth date and the last 4 digits of your Social Security number
, then accept the terms. You'll get an approval decision in seconds. PayPal Credit is subject to credit approval and offered by WebBank, Salt Lake City, Utah.
Why Customers Use PayPal Credit
Easy to use
There are no account numbers to enter or long credit applications to fill out. PayPal Credit is available within the checkout process. When you link your PayPal Credit and PayPal accounts, you can use PayPal Credit (and get more time to pay) at most places PayPal is accepted—both offline and online
Enjoy special financing offers
Special financing offers give you the flexibility to buy more of what you want and choose how you want to pay—in full, or by spreading out your payments over time. (Offers vary depending on where you shop and how much you spend.)
Extra layers of security
Get peace of mind with Zero Fraud Liability and PayPal's Purchase Protection program
How PayPal Credit Works
After customers open their accounts (including credit check), PayPal Credit asks customers at every purchase to fill out the last 4 digits of their SSN and their date of birth. The approved customer can then pay the bill by mail (check(, phone or online (via bank account) at
PaypayCredit.com
. Paypal Credit accounts can be linked with PayPal accounts by visiting https://billmelater.com/linkpaypal. Once the Paypal Credit account is linked to PayPal, it becomes a funding option within the PayPal account and gives the option to pay off the Paypal Credit balance.
Customers also get an email whenever they are declined. In cases when they are declined and they don't receive declined email/letter, they can contact Paypal Credit Customer Service to check if it was not a system issue. Paypal Credit isn't a credit card but a revolving line of credit offered by WebBank, Salt Lake City, Utah. The company will charge late payments just like a credit card company.