DeVilbiss Healthcare Product and Company Information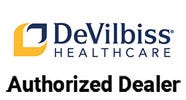 As a global respiratory therapy product manufacturer, DeVilbiss Healthcare offers some of the finest home and portable oxygen concentrators on the market. DeVilbiss enjoys a well-deserved reputation for excellent quality, sales, and customer service.
DeVilbliss Healthcare is a leader in quality sleep therapy and other respiratory products. These products are available in over 100 countries and provide patients with more freedom and better health.
About the Company
Founded by Dr. Allen DeVilbiss in 1890 in Toledo, DeVilbiss Manufacturing Company was born from the goal of offering patients a better quality of life. Originally an aerosol delivery methods inventor, Dr. DeVilbiss and his sons continued to work with perfume dispensers and other aerosol-based inventions. This eventually resulted in work on respiratory therapy products - a focus the company maintains to this day.
Dr. DeVilbiss' obsession with quality lives on as the company utilizes high tech solutions in order to provide the best products to patients and their caregivers. The unwavering focus is always on the patient and how to best improve their quality of life through excellent medical products.
DeVilbiss Healthcare is today owned by Vestar Capital Partners. Based in Somerset, PA, the company has a 152,000,000 square foot facility for manufacturing, distribution and warehousing. DeVilbiss products can be found in over 100 countries worldwide.
About the Products
While DeVilbiss Healthcare is a leader in the field of excellent respiratory and sleep therapy products, they also offer homecare suction equipment and instruments for ENT professionals.
Sleep Therapy
Obstructive sleep apnea is a common condition where the air passages collapse during sleep, causing breathing to pause. It can have severe symptoms if left untreated. DeVilbiss Healthcare provides a range of products that offer effective solutions for sleep apnea patients.
DeVilbiss sleep therapy products include:
CPAP Devices
Masks and Interfaces
Therapy monitoring systems
Technologies and accessories for comfort
Portable Oxygen Concentrators
Portable oxygen therapy has revolutionized supplemental oxygen delivery for patients. Now patients are no longer bound to their homes. Instead, lightweight cylinder tanks and portable concentrators allow patients to enjoy an active lifestyle and travel wherever and whenever they wish. One such portable oxygen unit is the
iGo Portable Oxygen Concentrator
. It's light and can use AC or DC power or its own rechargeable battery. This 3 liter units is also rugged and durable for life on the go and extensive travel.
Stationary Oxygen Concentrators
For patients that require oxygen for more than 15 hours every day or simply prefer to stay home, stationary oxygen concentrator systems are an ideal solution. The 525 DS Home Oxygen Concentrator by DeVilbiss is unobtrusive and compact. It has a 5 liter capacity and is the ultimate in high performance. Best of all, the 525 DS is extremely user friendly and incredibly easy to use.
Oxygen Fill Stations
DeVilbiss offers the I-Fill Personal Oxygen Station to allow patient to fill their oxygen tanks at home, reducing delivery costs and saving time. Liquid or pressurized oxygen is not needed. The I-Fill simply concentrates oxygen from the surrounding air for the best in do-it-yourself technology.
Aerosol Therapy
Since DeVilbiss Healthcare was founded on aerosol research, it's unsurprising that the company still provides high quality aerosol delivery products. These include compressor nebulizer systems, regular nebulizers, as well as masks and accessories.
Suction Therapy
Effective and efficient airway clearance is vital for respiratory patients. DeVilbiss Healthcare addresses this need with lightweight and powerful portable suction units.
Ear, Nose, and Throat Therapy
The company also offers a high-quality line of reusable nebulizers, powder blowers, and atomizers for the application of various medications to the throat, ears, nose and lungs.