Comparison of Lightweight and Small Portable Oxygen Concentrators
Overview of the Eight Smallest Portable Oxygen Concentrators
The greatest draw of portable oxygen concentrators is in their name: portable. These units are small and light enough to carry around, opening up the world for those who need to use oxygen on a continuous basis. Their rising popularity has brought a number of models to market, which means that you have much more choice in oxygen concentrators. We've created this side-by-side comparison of the eight most popular portable oxygen concentrators, all of which are available through Oxygen Concentrator Store.
Oxygen Flow Settings and Capabilities
The first feature that most oxygen concentrator users will look at is the unit's oxygen delivery capabilities. Most portable oxygen concentrators only deliver pulse dose oxygen but offer a wide range of settings so that users can select very specific settings.
Three of the seven units offer five settings for pulse dose delivery, including
CAIRE Freestyle Comfort
, Respironics SimplyGo Mini, and Inogen One G4. Invacare Platinum and Lifechoice ActivOx 4L offer four settings, while AirSep FreeStyle 3 features three settings.
Only one unit, the AirSep Focus, offers a single setting; to make this unit truly convenient and lightweight, it only offers setting 2, the most commonly prescribed pulse dose delivery setting.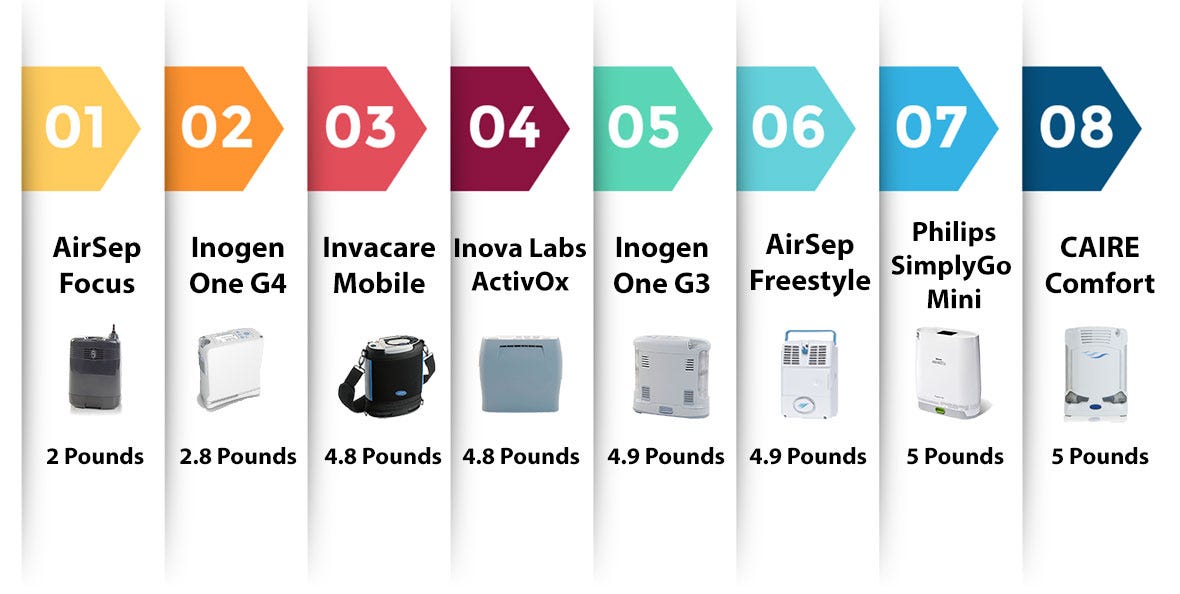 Weight and Size
All seven portable oxygen concentrators weigh five pounds or less with a single, 8-cell battery. Here, the AirSep Focus stands out once again. This tiny unit weighs a surprising 1.75 pounds, and each battery adds just 0.53 pounds. As a result, the total weight for an AirSep Focus with one battery is just 2.28 pounds, less than half of the lightest unit in the rest of the lineup, the Lifechoice ActivOx 4L, which clocks in at 4.8 pounds. Even with two batteries the AirSep Focus weighs just 2.81 pounds, far less than its closest counterpart.
Battery Life
Battery life is of utmost importance in small and lightweight portable oxygen concentrators, as they're meant to be taken out of the house and used on the go. A long battery life is, therefore, high on the list of must-haves for oxygen users.
The unit that lasts the longest at setting 2 with a single or internal battery is Lifechoice ActivOx 4L, which will last about 8.25 hours on average. The AirSep Focus, on the other hand, lasts the least amount of time at 1.5 hours.
FAA Approval
All units are approved by the Federal Aviation Administration, meaning that you may take them on a plane. Before heading to the airport, make sure that you understand
how to fly with an oxygen concentrator.
Noise Levels
If sound is of a concern, any unit would be a good choice. All units register from 40 to 44 decibels, which is about as loud as a refrigerator humming or a quiet residential area.
---
Side-by-Side Unit Comparison
Dimensions
8.75 inches Wide x 3 inches Deep x 8.25 inches High
7.5 inches Wide x 3.88 inches Deep x 9.45 inches High
8.3 inches Wide x 3.6 inch Deep x 9.4 inches High (10.2 inches High with extended battery)
Weight
4.9 pounds with 8-cell battery
4.8 pounds with 1 battery
5 pounds with 8-cell battery, 6 pounds with extended battery
Battery Duration
Setting 1, 8-cell battery: 4.5 hours
Setting 1, 16-cell battery: 9.5 hours
Setting 2, 8-cell battery: 4 hours
Setting 2, 16-cell battery: 8.5 hours
Setting 1, one battery: 5 hours, 5 minutes
Setting 1, two batteries: 10 hours, 10 minutes
Setting 2, one battery: 3.5 hours
Setting 2, two batteries: 7 hours
Setting 2, 8-cell battery: 4.5 hours
Setting 2, extended battery: 9 hours
Dimensions
5.91 inches Wide x 2.68 inches Deep x 7.2 inches High (includes single battery)
7.3 inches Wide x 3.1 inches Deep x 10 inches High (11 inches with 16-cell battery)
6.1 inches Wide x 3.6 inches Deep x 8.6 inches High
Weight
2.8 pounds; add 2 to 5 pounds with accessories
5 pounds with 8-cell battery, 6 pounds with 16-cell battery
4.9 pounds with battery
Battery Duration
2 hours 40 minutes, (4 cell), 5 hours (8 cell)
8-cell battery: 8 hours
16-cell battery: 16 hours
Setting of 2
8 Cell Battery: 4 hours
16 Cell Battery: 8 hours
Setting 1: 6.5 hours
Setting 2: 3.5 hours
Dimensions
4.8 inches Wide x 2.5 inches Deep x 6.4 inches High
9.1 inches Wide x 4.4 inches Deep x 7.9 inches High
Weight
1.75 pounds (unit only); 0.53 pounds each battery, 2 included
4.8 pounds
Battery Duration
Setting 2, per battery: 1.5 hours
Setting 1, internal battery: 10.25 hours
Setting 1, external battery: 4.75 hours
Setting 2, internal battery: 8.25 hours
Setting 2, external battery: 3.75
The Final Choice: Portable Oxygen Concentrators
The seven of the smallest, lightest weight portable oxygen concentrators have a lot in common. They are all a similar size and weight and offer very similar settings, ranging from pulse dose settings 1 through 5. Only one unit features distinct characteristics: the AirSep Focus. If you're looking for a truly portable unit that you only need to use for short periods of time, it may be the unit for you.
Otherwise, your decision may boil down to the accessories and add-ons, such as the style of the carrying case or additional batteries that it may come with, a unique feature or even something so simple as the color.