As summer turns into autumn, we begin to see changes all around us. The temperatures start to get cooler; maybe we'll see some rain and, inevitably, snow. The world around us is constantly changing and so is technology. American Medical Sales & Repair is happy to bring 2 new items to all of our friends in the oxygen world.
A California-based company called Captive Technologies is allowing AMSR to bring two new items to our valued customers. First, let me introduce the O2Talon, a handy little device that vaguely resembles a pair of needle-nose pliers. This compact and simple tool was invented specifically to help the oxygen patient disconnect stubborn tubing, nasal cannulae and connectors. It allows for the patient to safely, and helpfully, separate tubing that might otherwise be a difficult chore for someone with arthritis or limited dexterity.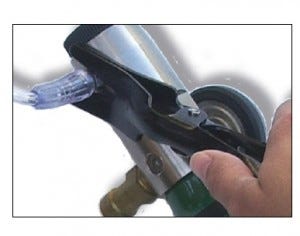 The second item brought to you by Captive Technologies is called Tidy Tubing. This item is bound to be
popular in the oxygen world! Tidy Tubing is a 14-inch long coiled piece of oxygen tubing that stretches up to 15 feet, allowing for mobility all around the home without the danger of tripping on 50' of hose that is lying on the floor. Tidy Tubing has a small clip on one end that attaches to clothing and it's possible to join up to 3 together for a total of 45' of mobility. The coiled nature of the tubing makes it self-retracting, so there's no need for the elusive oxygen tubing "reel" that so many O2 patients desire, but does not seem to exist.
Hopefully, our friends in the oxygen world will benefit from these new innovations. The Sales Team at American Medical Sales & Repair has your health and independence in mind and we hope that these items will serve you well. Remember, when you breathe easier, we breathe easier.