The third generation of SeQual's Eclipse, the Eclipse 3, is a portable oxygen concentrator that provides the most reliable continuous flow oxygen along with a pulse dose option. This fully functioning, robust system fulfills clinical oxygen needs while simultaneously offering desired portability and freedom. Regain your freedom to move freely about your home, take trips to the grocery store, day trips with grandchildren, and even travel with the Eclipse 3.
Highlights:
• Single solution for oxygen dependent patients fulfills clinical needs with the portability that patients want.
• Battery can last for over 3 hours and can recharge while in use
• AutoSAT adjusts to your respiratory rate
Appearance:
The SeQual Eclipse 3 Portable Oxygen Concentrator is a fully functioning, small, lightweight oxygen system designed for use at home and on the road. At just under two feet tall, this sleek black machine looks like many fans and air purifiers, blending seamlessly into the home environment. At 12.3 inches wide and 7.1 inches deep, the Eclipse 3 takes up a very small footprint in the home compared to a traditional oxygen system that is dependent on tanks and refills.
The SeQual Eclipse 3 is oval shaped and protected by a matte dark gray plastic casing. The front of the unit sports a sleek gray shell with the Eclipse logo and a small blue indicator that this oxygen concentrator is FAA approved for most air travel. At the top of the Eclipse 3, is an easy to read and easy to use control panel and a sturdy black carry handle. The display and control panel features four large blue buttons for easy operation. An oxygen cannula connector is located at the top of the machine. The back of the Eclipse 3 features the same dark gray matte plastic as the front, and provides easy access to the unit's battery and washable mesh filter.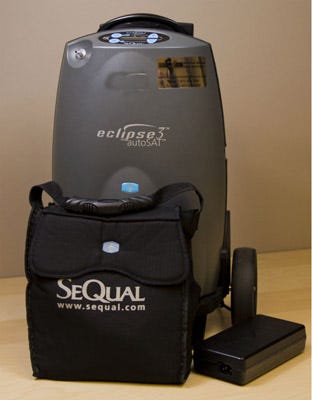 The Eclipse comes with a convenient carry cart with a telescopic handle. The carry cart is specifically designed for the SeQual Eclipse 3 and it seamlessly connects to the unit and gives the user a secure and easy carry method.
Portability:
Dimensions: 12.3" Wide x 19.3" Tall x 7.1" Deep – Machine with battery
Weight: 15 lbs, 18.4 lbs with battery
Battery Life Specs:
Continuous Flow Setting
At 1.0 LPM: 3.7 Hours
At 3.0 LPM: 1.3 Hours
Pulse Dose Setting
At 1.0 Pulse Flow: 4.4 Hours
At 6.0 Pulse Flow: 2.1 Hours
The revolutionary aspect of the SeQual Eclipse 3 is that it is a fully functioning oxygen concentrator that fulfills clinical needs for some of the most oxygen dependent patients, while also allowing patients the freedom of less robust portable oxygen systems. Imagine being able to visit the zoo with your grandchildren or take a road trip.
The Eclipse 3 features an AutoSAT feature, which adjusts to your respiratory rate, and allows you to truly live your life without limits. Garden, go for a walk, even exercise and maintain optimum oxygen concentration with the Eclipse 3. The SeQual Eclipse portable concentrator keeps up with your needs by automatically adjusting to your oxygen demands.
With a fully charged battery, the SeQual Eclipse 3 offers up to 4.4 hours of battery life when used at pulse dose setting 1, and up to 3.7 hours of battery life when used at the continuous flow setting of 1 liter per minute. As you require higher settings, battery life between charges will decrease. For example, at 3.0 liters per minute on continuous flow setting, a fully charged battery can last up to 1.3 hours. Additional batteries are available to increase your time away from home between charges.
The SeQual Eclipse 3 comes with included AC and DC power adapters. The Eclipse 3's battery can be even be charged while in use, a feature many portable oxygen concentrators lack.
The SeQual Eclipse 3 is also approved by the FAA for travel on most US airlines, truly giving you the freedom that a stationary oxygen tank limits. Optional packages are available for purchase with extra batteries and travel accessories to give you extended battery life and time away between charges. The Eclipse 3 gives you a world of opportunity. Take the cruise you've been dreaming of, visit your children across the country, or take an extended road trip while operating your Eclipse 3 with the DC power adapter.
Controls:
The SeQual Eclipse 3 features four large, easy to read and use button controls for operation of the machine. The ON / OFF switch is easy to use and located at the top of the machine for one touch power. Two flow adjustment buttons, as well as a button to switch between continuous and pulse flow settings are also conveniently located at the top of the machine next to the display.
The SeQual Eclipse features two filters. The washable, external filter is located at the back of the oxygen concentrator just below the carry handle. This mesh square filter should be rinsed off and dried before it is replaced in the machine. The Eclipse 3 also features an internal gross particle filter which should be replaced every 1 – 2 years.
Video Summary:
Starting Cost:
When you order the SeQual Eclipse 3 Portable Oxygen Concentrator, it arrives ready to use. The SeQual Eclipse 3 Portable Oxygen Concentrator comes standard with one battery, chargers, a universal cart and accessory bag. A cannula, 25 feet of tubing and a tubing connector, a replacement gross particle filter and an instruction manual also come with your Eclipse 3. Additional packages, including air travel accessories are available for purchase.
Due to our online pricing policies with SeQual we are unable to display prices on this page. We would be happy to answer any pricing or product questions you may have regarding this item. Please call us at 1-877-774-9271 and we would provide you with our "Guaranteed Low Price".
Summary:
The SeQual Eclipse 3 is unique in that it offers the robust features and continuous flow oxygen delivery of stationary oxygen therapy systems, while giving you back your freedom. The Eclipse 3 delivers up to three liters per minute of continuous flow oxygen. With all the features of a stationary, ambulatory and portable oxygen system, the Eclipse is ready to go with you as you run to the grocery store, visit with friends and family, or travel. With additional batteries available for purchase, you no longer need to be tied to home for oxygen therapy.