100% Satisfaction Guarantee
Friendly Customer Support
Same Day Shipping Available
Serving Over 150,000 Happy Oxygen Users
---
Questions? Talk to the Oxygen Experts!
A+ BBB Rating
Excellent Trustpilot Customer Rating

Price Match Guarantee
Pulse Flow
4.9 Pounds with Internal Battery
3.5 Hour Battery Life (Setting of 2)
Includes the FreeStyle 3 unit, internal battery, universal power supply, AC power supply, DC power cable, should strap, cannula and manual.
AirSep FreeStyle 3 Portable Concentrator Description
The newly designed AirSep FreeStyle 3 weighs less than 5 pounds and adds new and incredible features that include a simple one-touch operation, longer battery life, and a new color scheme! It also features a new power supply connection that ensures the highest durability of both the power supply and FreeStyle mobile unit.

At just 5 pounds, the FreeStyle is indeed lightweight. It can easily be carried by almost anyone and provides freedom of movement for those requiring oxygen therapy. Furthermore, a carrying case with shoulder strap and accessory bag are included. The unit's high-quality matte finish allows it to resist scratches and minor dings.

Even the great outdoors is no problem for the FreeStyle. Designed to operate in temperatures up to 104 degrees F, this oxygen concentrator is ready to go wherever, whenever. Warm summer days won't slow it down.

It's also fully FAA certified and adaptable for airline flight so you won't be limited when you travel. The battery life averages up-to 3.5 hours on a setting of two and can be recharged with the included AC or DC adapter. Even better, the power supply is designed to be changed quickly, with multi-directional installation and no release button to search for.

The FreeStyle is so small and quiet that it's appropriate for use pretty much anywhere. The machine's sound level is a soft 41 decibels, so you can use it with confidence whether at home, in a quiet restaurant, or at the cinema.

Of course, an oxygen concentrator isn't functional if it can't deliver the oxygen you need. The FreeStyle doesn't fail in this department either. It has 3 unique pulse settings with a maximum oxygen delivery rate of 500 mL per minute. It also includes AirSep's UltraSense technology, allowing it to adjust the oxygen bolus to match your breathing rate automatically. This means that whether exercising or at rest, the FreeStyle meets your oxygen requirements. This feature also ensures that oxygen is provided at the very start of your breath when your body uses oxygen most efficiently.

The FreeStyle brings user-friendliness to a new level. A single button push starts the device. No programming or complicated menus. Plus, it takes less than 2 minutes to warm up, so it's ready to deliver oxygen when you need it.

All the features above come with a great warranty from the manufacturer. It covers the unit itself for 3 years, but also provides a year of protection for the battery and power supplies to give you peace of mind.

The AirSep FreeStyle 3 Package includes the Freestyle Unit, internal battery, universal power supply, AC power adapter, DC power adapter, shoulder strap, cannula, and manual. This package has a starting MSRP of $2695, please contact us for pricing questions.

We also provide the AirSep FreeStyle 5 Concentrator.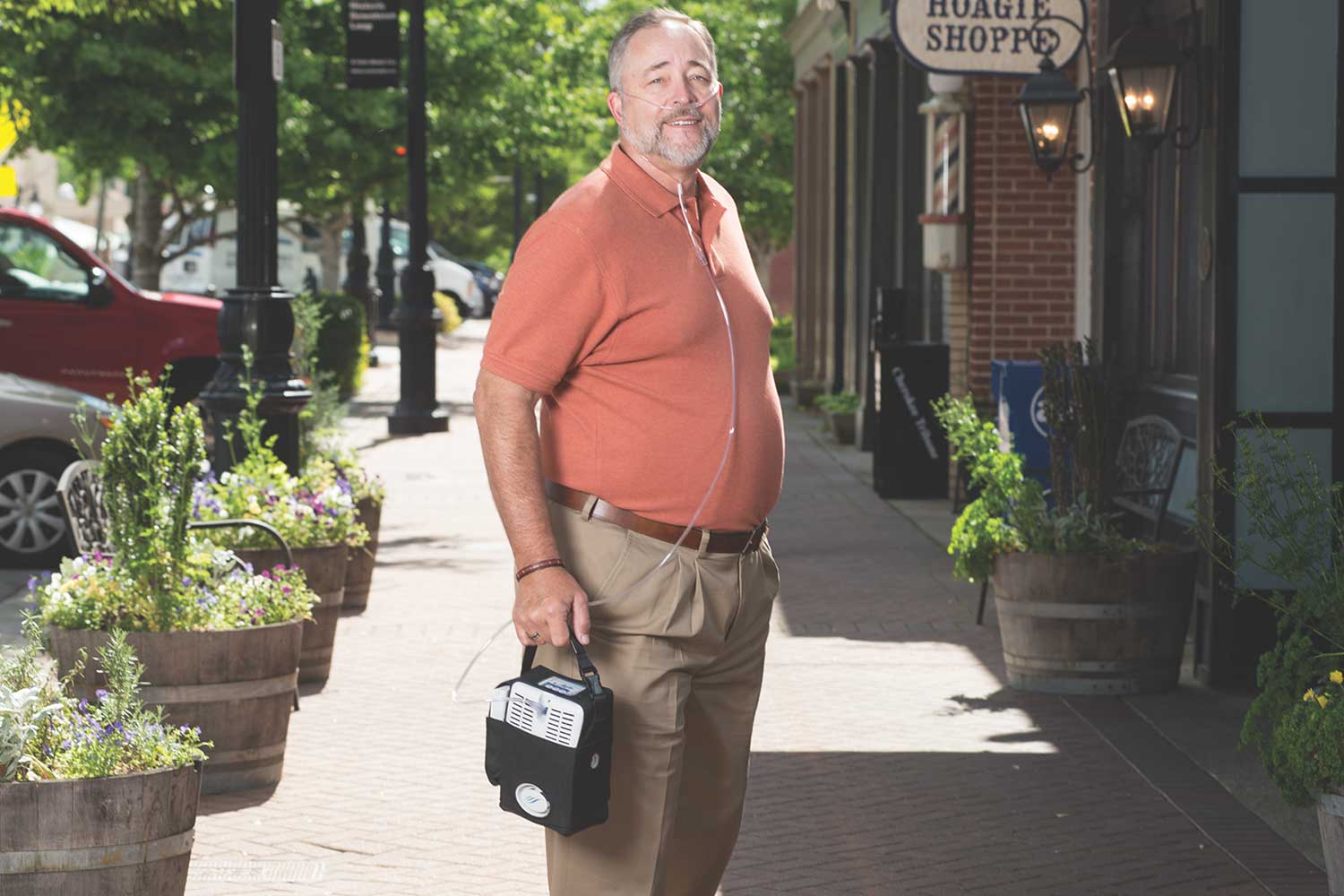 More Information
Product Features
Features UltraSense technology to automatically calibrate oxygen level to your needs.
FAA Approved for on board/in-flight usage.
Fully functional on AC or DC power.
Three pulse setting choices deliver up to 500 mL/min of oxygen.
Starts with a press of a single button, starts delivering oxygen in under 2 minutes.
Carry it anywhere! Less than 5 pounds, small, and scratch resistant. Designed to operate in the heat and cold.
Matte white finish helps resist everyday scratches.
Manufacturer
Airsep
Dimensions
6.1 inches Wide x 3.6 inches Deep x 8.6 inches High
Product Weight
4.9 pounds (unit only)
FAA Approved
Yes
Warranty
Three-Year Warranty on the Unit, One-Year Warranty on Battery and Accessories
Alarms / Alerts
Start-up, low battery, pulse flow, breath rate, battery charge status, temperature alarms, general malfunction, cannula disconnect, high or low pressure.
Battery Charging Time
4 to 5 Hours (depending on remaining battery life)
Battery Duration
3 Hours - 3 Setting
3.5 Hours - 2 Setting
6.5 Hours - 1 Setting

Battery Cycle Life:
Around 300 charges, then only 80% capacity or less
Flow Settings
Pulse: Settings from 1 to 3
Maximum Oxygen Output
500 ml/min
Noise Level
38 - 44 decibels depending on setting (41 dBA @ setting of 2)
Oxygen Purity
90% oxygen +5.5% -3%
Oxygen Output
227.5 mL/min - Setting of 1
420 mL/min - Setting of 2
500 mL/min - Setting of 3
Power Consumption
AC Power: 100-240 VAC, 50/60 Hz (1.75 amp max)
DC Power: 11 - 16 VDC (8.0 amp max)
Operating Ranges, Intended for Use
41 - 104 Fahrenheit (5 - 40 Celsius)
Up - 12,000 feet (3048 m)
Storage Ranges, Intended for Storage
-4 - 140 Fahrenheit (-20 - 60 Celsius)
Items in the Box
Include the FreeStyle 3 unit (AS095-1), internal battery, universal power supply (PW023-1 ) AC power adapter (PW026-1), DC power adapter (CD027-1), shoulder strap, cannula (C-7), and manual.
AirSep FreeStyle 3 Portable Concentrator Literature
General Questions
What are the dimensions of the AirSep Freestyle 3?
Here are the dimensions in inches and metric form for the AirSep Freestyle 3 portable oxygen concentrator: Inches: 6.1 inches Wide x 3.6 inches Deep x 8.6 inches High. Metric: 15.4 cm Wide x 9.1 cm Deep x 21.8 cm High.
How loud is the AirSep Freestyle?
The AirSep Freestyle portable oxygen concentrators produces a noise level that is very unobtrusive at a 41 decibel average – no louder than the hum of a kitchen appliance. ,br> Learn more about