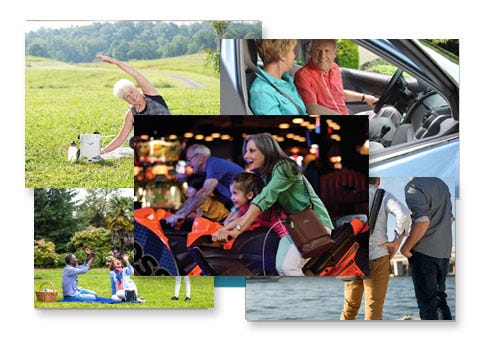 Top Rated Portable Concentrators
Portable oxygen concentrators are the latest technology for oxygen therapy users who desire a small, lightweight and affordable portable oxygen solution in a compact and mobile unit. All of our mobile units are FAA-approved for flight by most major airlines and can be operated in vehicles or RVs allowing oxygen users to travel freely. Enjoy activities such as golfing, hiking, boating, and camping while using a portable concentrator.
We carry over 20 different models of new and used mobile oxygen concentrators, and our Oxygen Specialists can assist in finding a portable oxygen solution that fits your needs and lifestyle. Contact us about our wide selection of top-rated units from leading manufacturers from Inogen, Respironics, SeQual, Chart, Invacare and more.
Making Life With Oxygen Easier
Benefits of Portable Oxygen Concentrators
▪ Pulse Dose and Continuous Oxygen Delivery
▪ Long Battery Life
▪ Wearable Technology - Lightweight and Mobile
▪ FAA Approved for Flights
▪ Travel Anywhere, Anytime
Why Shop with Oxygen Concentrator Store and American Medical?
With Every New Purchase from American Medical Sales and Rentals you receive:
▪ Our customer satisfaction commitment
▪ 100% Risk Free Trial
▪ Warranty Guaranteed
▪ Price Match Guarantee
▪ Loaner Programs Available
Facts about American Medical Sales and Rentals:
▪ AMSR has been the Oxygen leader for over 18 years
▪ Our oxygen specialists have a combined 100 years of industry experience.
▪ The only ACHC accredited full service oxygen company. This means we are held to the same standards as hospitals when selling oxygen equipment.
▪ Attractive financing options.
▪ Trade-In and Buy-Back Programs.
▪ Some extended warranties are not support by the manufacturer.
▪ Be leery of companies that don't require prescriptions.
Customer Reviews and Comments
We're Here to Help.
Our team is ready to answer any questions you have!
MON-FRI 8 AM - 9 PM MT | SAT 7 AM - 7 PM MT | SUN 8 AM - 7PM MT
866.993-8065