Specifications for the LifeChoice ActivOx Portable Concentrator:
Product Features:

Weighs 4.3 pounds
No carts or tanks required
Provides up to 3 LPMeq
FAA-Approved
Certified for use up to 10,000 feet


Product Dimensions:

9.05 inches Wide x 4.38 inches Deep x 7.9 inches High

Product Weight:

4.3 pounds

Warranty:

3 Three-year Warranty on the unit

Alert / Alarm:

Oxygen Concentration Sensor Alarm: Less than 82%

Battery Charging:

Internal Battery = 4.5 hours
External Battery = 3 hours

Battery Duration:

Internal Battery
1 LPMeq = 12.5 hours
2 LPMeq = 7.25 hours
3 LPMeq = 6.25 hours

External Battery
1 LPMeq = 3 hours
2 LPMeq = 3 hours
3 LPMeq = 2 hours

FAA Approved:

Yes

Manufacturer:

Inova Labs

Maximum Oxygen Capacity:

480 ml/min PulseWave




Noise Level:

1 LPMeq = 41dB, 2 LPMeq = 44dB, 3 LPMeq = 46dB

Operating Ranges::

15% to 95%, Non-condensing
41ºF to 104ºF (5ºC to 40ºC)
10,000 feet (3 km)




Oxygen Concentration:

90% (+/- 5%)

Power:

AC 100-240 VAC; 50-60 Hz Cycles;
DC 12-19 VDC or Battery 12-16.8 VDC


Storage Ranges:

Up to 95%, Non-condensing
-25ºF to 140ºF (-32ºC to 60ºC)




Warm-up Time:

30 Seconds
Product Information Videos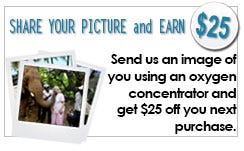 Product Literature
You will need Adobe Acrobat Reader to view PDF documents. Download a free copy from the Adobe Web site.
---
LifeChoice ActivOx Portable Concentrator Customer Reviews
Review by
Todd
on March 23, 2015
Finally, I found an oxygen concentrator that fits my lifestyle. I started getting very into physical fitness after being diagnosed with COPD, so I quit smoking and starting getting healthy. I feel so much better and I couldn't do it without the Activox.
Review by
Lillian R.
on January 26, 2014
I was hauling a 15 lb concentrator on wheels along with my walker or two canes. I just didn't go many places because of managing all of my equipment. Now I can take two Activox units and 3 external batteries on flights and I can manage all with my seated walker in the airports!
Review by
Tara B.
on July 11, 2013
The sleep mode feature is nice. I was happy for the first few times I used it and noticed a difference for how I felt the next day. Great value on this concentrator.
Review by
Margie V.
on July 2, 2013
This thing took a shaking and some pretty good bumps but still works fine! I just wish the carry bag was a little thicker. It seems a little flimsy but maybe it's just me.
Review by
Linda A.
on July 1, 2013
If you need a longer lasting battery than the regular Lifechoice, this is the concentrator you need. I only need 1 LPM and I almost bought the Lifechoice, so its a good thing I saw this one, too. 15 hours of uninterrupted battery life can't be beat!
Review by
Derek P.
on June 27, 2013
Its nice to be able to mute the alarms when I don't want annoying beeps going off at the worst times. Like how it's nice to silent my cell phone. The general low noise level is nice as well.