Specifications for the DeVilbiss iGo Portable Oxygen Concentrator:
Product Features:

Surprisingly compact design for easy travel and more enhanced portability
Oxygen Sensor that ensures accurate O2 delivery and a reduced maintenance schedule
Less than 20 pounds when the battery installed
Battery life up to 5.4 hours on Pulse that quickly recharges in 2 to 4 hours
Can be used with 35 foot cannula in continuous flow and 50 foot cannula on continuous

Product Dimensions:

12.3 inches wide x 7.1 inches deep x 19.3 inches high

Product Weight:

15.5 pounds, 19 pounds with battery

Warranty:

Three-year Manufacturer's Warranty

Alert / Alarm:

High Flow/Low Flow, No Breathe, Low Oxygen Output, High Temperature, Low Battery, Power Failure, Unit Malfunction

Battery Charging:

2.0 to 4.5 hours depending on flow setting

Battery Duration:

3 hours on a setting of 6 and 5 hours on a setting of 1 in pulse dose
1.6 hours on a setting of 3 and 4 hours on a setting of 1 on continuous


Flow Settings:

Continuous Flow: 1 - 3 LPM
Pulse Dose: 1 - 6

Manufacturer:

DeVilbiss

Maximum Oxygen Capacity:

3000 ml/min




Noise Level:

40 Decibels at 3.0 LPM

Operating Ranges::

Temperature: 41 F to 104 F (5 C to 40 C)
Altitude: 0 to 13,123 ft (0 to 4000 meters)




Oxygen Concentration:

91% (+/-3%) @ all flow settings

Storage Ranges:

Temperature: -4 F to 140 F (-20 C to 60 C)




Transportation:

Keep dry and clean and handle with care.
Product Information Videos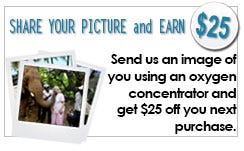 Product Literature
You will need Adobe Acrobat Reader to view PDF documents. Download a free copy from the Adobe Web site.
---
DeVilbiss iGo Portable Oxygen Concentrator Customer Reviews
Review by
Renata D
on June 2, 2015
The machine is great, easy to move around and travel with it. Since I use it a lot for going out, I have 5 batteries that I use to change every 3 hours. What happened over time is that the connector of the battery to the machine is of the worse quality and it started falling apart. I got Devilbiss to replace them once, but they felt apart again.
Review by
Bill Martin
on December 11, 2013
Can not detirmine if this machine can be used with a C-pap
Review by
Noah V.
on July 11, 2013
I got the iGo battery package, since I need more battery life on my trips around the world. Great choice for the value.
Review by
Ken W.
on July 2, 2013
I was worried that it might not meet my needs when I start exerting myself more. The conservation feature is better than I expected. This things is amazing.
Review by
Felice J.
on July 1, 2013
I'm so glad I can use this oxygen concentrator with the dosage of continuous flow that I need. My choices seemed slimmer because I need continuous, but this delivers. I'm very satisfied.
Review by
Jimmy R.
on June 27, 2013
They were really thinking when they made an easy to access door through the case. I like that you don't have to completely remove it from the cart to service the filter. Makes it convenient!
Review by
Franklin S.
on June 27, 2013
For something this big, I would have thought it would have a higher continuous flow capacity. Seems like they could have gone higher with that, with a lower pulse dose capacity.
Review by
Martin C.
on June 27, 2013
When one of my patients needs a higher dose of oxygen on pulse dose, I direct them to this concentrator. I've only seen good things about it and no one has complained. It meets their needs wonderfully.
Review by
Mel D.
on June 26, 2013
I was walking along some pretty bumpy terrain and I was worried about my iGo. I guess didn't need to be, though! It can take a beating and be fine.
Review by
Charlotte N.
on June 26, 2013
The cart is easy to maneuver and easy to access the battery without taking the whole thing out of the case. I took it with me on my vacation to Niagara Falls and it wasn't a bother at all. Wonderful concentrator all around.
Product Questions & Answers
How to change filter on the Devilbiss iGo?
The Devilbiss iGo has a washable/external filter and an internal filter that need to be maintained. The washable/external filter is located on the back side of the machine built into the carry handle. If you place your finger deep enough in the carry handle portion there is a mesh rectangle filter. The gross particle filter should be rinsed off and completely dry before placing back into the machine. Depending on the number of hours the machine is used each day, the internal filter should be replaced every 1-2 years.

How do I perform a hard reset on the Devilbiss iGo?
To perform a hard reset, you will need to first remove the battery from the machine and disconnect all power to the unit. Let the machine sit powered down for 2 minutes. Plug the machine back into AC power (the power supply for use in the home) WITHOUT BATTERY and turn the machine on. Once the unit has been running for 5-10 minutes, place the battery into the machine WHILE RUNNING. This should eliminate the issue the machine is having. If the issue still occurs, call us and we will begin the process of creating a case.

How do I insert and remove the battery on the Devilbiss iGo?
The easiest way to insert and remove the battery is to have the machine standing upright. There is a small push down tab at the top of the machine. Press down on this tab, and the battery clips away from the machine. When placing the battery inside the machine, make sure to set it in gently. If you drop or slam the battery into the machine, the tabs or pc boards on the battery or the inside of the machine can be damaged or break. When removing the battery, you must press down on the battery tab then pull the battery away from the unit. Make sure you have a firm grip on the battery so it does not drop back into the machine or slip out of your hand.

How long does the battery last at all settings on the Devilbiss iGo?
The battery duration FULLY CHARGED for Pulse and also Continuous. Keep in mind that battery durations are estimated because each patient has different breath rates and breathing patterns, which will make the batteries last for shorter or longer amounts of time. When you increase or decrease the settings, the charge per battery will either increase or decrease.

Pulse
Setting 1: 5.4 hours
Setting 2: 4.7 hours
Setting 3: 4.0 hours
Setting 4: 3.5 hours
Setting 5: 3.2 hours
Setting 6: 3.0 hours

Continuous
Setting 1: 4.0 hours
Setting 2: 2.4 hours
Setting 3: 1.6 hours
SHIPPING OPTIONS
*This product is available for FREE GROUND SHIPPING. Please mention code FREESHIP2015 to the sales representative or enter it under "Discount Codes" in your shopping cart.

Please allow for 3-6 business days for UPS Ground Delivery in the US: most orders are processed within 1 business day. This item can be expedited for an additional fee. Additional charges apply to products shipped to AK, HI and territories outside the continental US. Free shipping is only eligible on new portable concentrators and does not apply to AK or HI. Cannot be combined with other offers. Restrictions may apply.

Other Delivery Options:
UPS 2nd Day: Delivers the second business day.
UPS Next Day: Delivers the next business day.