Specifications for the AirSep Freestyle 5 Portable Concentrator:
Product Features:

High capacity portable concentrator
Only 6.2 pounds
Approved by the FAA for use during flights
Up to 7 hours between charges with the Airbelt
Optional harness to transform into a backpack

Product Dimensions:

4.4 inches wide x 11.2 inches deep x 10.7 inches high

Product Weight:

6.2 pounds (unit only)

Warranty:

Three-year Warranty on the unit and One-year Warranty on battery and accessories

Alert / Alarm:

Breath rate, Battery charge state, Cannula disconnect, Start-up, Pulse flow, Low battery, High temperature, General malfunction, High and low pressure

Battery Charging:

3.25 hours

Battery Duration:

1 Hour - 5 Setting
2 Hours - 2 Setting
5 Hours - 1 Setting

Battery Cycle Life:
Around 300 charges, then only 80% capacity or less

FAA Approved:

Yes

Manufacturer:

Airsep

Maximum Oxygen Capacity:

962 ml/min




Noise Level:

38 - 44 decibals depending on setting

Operating Ranges::

41 - 104 Fahrenheit (5 - 40 Celsius)
Up - 10,000 feet (3048 m)





Oxygen Concentration:

90% oxygen +5.5% -3%

Power:

Universal Power Supply
AC Power: 100-240 VAC, 50/60 Hz; 11-16 VDC
DC Power: 11 - 16 VDC, 6.0 amps at 12 VCD
Rechargeable, lithium battery

Storage Ranges:

-4 - 140 Fahrenheit (-20 - 60 Celsius)




Warm-up Time:

2 minutes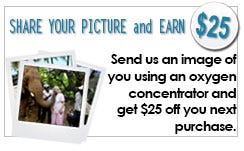 Product Literature
You will need Adobe Acrobat Reader to view PDF documents. Download a free copy from the Adobe Web site.
---
AirSep Freestyle 5 Portable Concentrator Customer Reviews
Review by
Doreen A
on May 28, 2015
I am very happy with my Airsep Free Style portable concentrator. I had it for 4 years and then had to have it repaired which I think was only a new internal battery. While it was being fixed I was given another kind which was nice as well, but much larger and would be great for someone who was stronger as it was on a cart. I now have my airsep back and am wondering if it can remain plugged in continually or should it be disconnected from the power supply after it shows a charged battery?
Review by
Jesse P.
on July 11, 2013
I guess I'm lucky – I'm able to get a good 7 hours of battery life before I recharge. I use the airbelt and I only need the lowest setting this things has.
Review by
Jay M.
on July 2, 2013
I'm impressed with how this thing holds up with how little it is. I also use oxygen constantly and I live in a pretty hot climate. With little maintenance and care, this thing is pretty tough.
Review by
Morris H.
on July 1, 2013
It's very small, which naturally means it doesn't have the features the others have that you may need. Great if you need low flow and that's all, but you have to consider other features. Check out others before going with the smallest!
Review by
Sophia G.
on June 27, 2013
The only thing I can see wrong is the battery takes over 3 hours to charge again. This seems long, as well as the shortness of the battery life on the highest setting, which is what I need. Seems I would do better with a bigger model.